"Panic Roommate" was a decent episode of Gossip Girl.
It was an improvement over the past couple of weeks, but certain things still aren't clicking for me lately. I kept feeling like I should be more invested in ... well, almost everything.
Serena and Ben kissing just didn't feel like an OMG moment. Chuck and Raina have so little chemistry, it's hard to believe there's anything there. The Damien-Eric storyline had a lot of potential, and while it certainly wasn't bad, I expected more drama.
Serena is falling head over heels for yet another character.
Plot lines that make sense are not a requirement for Gossip Girl success. Compelling people and story arcs are, though, and that's what's lacking at this stage of the game.
The whole takeover of Bass Industries needs to get some legs. Chuck is a fan favorite, yet it's hard to identify with him in his quest to save the company, at least at this point.
Ben should be growing on me more too, his role in Juliet's scheme and in Serena's past having been fleshed out the way he was over the course of this entire season, but no.
This guy is emotionless and beyond dull, and his connection to Serena too nebulous to see any sort of spark there. Maybe he'll come out of his shell soon, but he's a bore so far.
Perhaps the best parts of the episode where the music - not just Florence & The Machine's performance of "Cosmic Love," but also The Naked and Famous' "Young Blood" - and the previews for next week, which we've posted for you below.
Let's start from the beginning. For whatever reason, Blair decided that the best way to get Epperley off her back was to get her on her own back, so to speak. A good plan.
With Chuck unavailable, she turned to Nate. Hey, he's got nothing else to do.
Amazingly, Nate didn't close the deal, but Epperley ended up running off with a guy she was in love with anyway ... leaving Blair already in charge of her position at W?
Eh, we'll buy it. Epperley peacing out of the show so abruptly was bizarre, but it's Blair, and anything that gets her up that career ladder (and more screen time) works.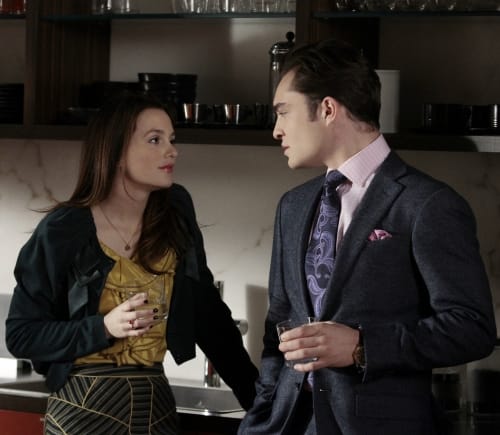 Is there a Chair reunion in our future?
Having moved into the Humphrey loft for reasons far from clear, Ben's presence inspired Dan to team up with Eric, who was being manipulated by Damien, to get him out.
Their plan, which could have been 10 times stealthier and more effective if Chair had been involved, was to get Ben to lose his temper, attack Damien and violate parole.
Fail. Ben kept his rage in check. Plan B was for Eric to punch Damien and accuse Ben, who didn't try to defend himself against that false accusation and was hauled off.
Of course, Dan being Dan, he did feel bad and come clean. As did Eric. Now Damien may really be on the outs because he's getting cut off by his dad. Again, low stakes.
Think that will actually happen? Will Damien will be back for revenge? This is a character we can see big things happening from, so this might be just the beginning.
This episode was pleasant enough and some of the Gossip Girl quotes were good, but we need some more drama, and reasons to care, to make this season truly great.
Perhaps Gossip Girl is just a victim of its own success and I expect too much. But I think that our favorite show, much as I always enjoy it, is capable of slightly better.
Next week may up the ante, fortunately. Check out the hand-touching in this promo:
What did you think of last night's Gossip Girl? Discuss with us below!
Steve Marsi is the Managing Editor of TV Fanatic. Follow him on Google+ or email him here.