Greek bounced back from a lackluster episode with "Fumble," an installment that focused on the morning after Homecoming and delivered just what viewers needed.
First things first: Casey and Cappie!!! After spending the night together, these two tackled the issue of the morning-after pill. I was glad to see that they didn't make this into a PSA. Although the subject is controversial, the situation does happen in college and should be explored in a realistic fashion. Nicely done, ABC Family.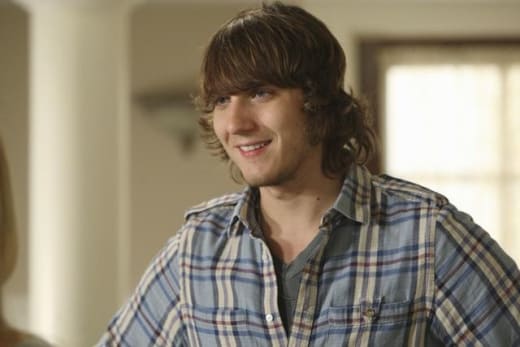 If you weren't in love with Cappie before this, you certainly should be after Cappie Land. The idea was so sweet and endearing, and he even brought a pie! After some late-night swing pushing and a kick to the head, Cappie proved that he's working on growing into an adult. If the writers do not put these two together at the end of the series, I will be seriously disappointed.
Elsewhere, Rusty and Calvin had an adventure trying to piece together the previous night. This friendship has really proven to be as essential as that of Casey and Ash.
Speaking of, how about Rusty and Ashleigh? Although we could see it coming, I was still surprised to watch it transpire. It was a little awkward to watch and I haven't decided if I can really get on board with... Rashleigh? The name just even seems wrong.
On the other hand, Ash has caught the attention of Simon. She is one lucky girl. This is an interesting arc, which could lead to some fun drama. Here is hoping Simon sticks around for the rest of the season.
A few sidenotes:
Although Rebecca has taken somewhat of a backseat this season, her conversation with Ash about what she should do showed exactly why we need more of her around.
Casey and Catherine's conversation was hysterical. The dynamic between these two is a lot of fun.
Watching Casey and Cappie babysitting the kids was a nice touch. Loved Simon's daughter and all of her makeup, especially when she asked Casey how she gets her eyeliner so thin (I often wonder that myself!).
What did everyone else think?