Pretty Little Liars Review: Drugs are Bad!

Teresa Lopez at .
Pretty Little Liars began to shed some light on its mysteries this week, but these disclosures seemed a little undercut by tedious pacing and few after-school-special lessons.
From dealing with bullies to the dangers of drugs, "If At First You Don't Succeed, Lie, Lie Again" veered into typical high school fare. Granted, the lesson about bullying was important for the show, especially since Ali was the most destructive bully of them all, but the series sometimes hides real revelations with covert lectures.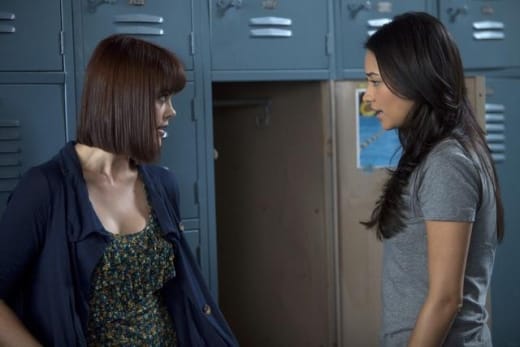 One of themes for this week's installment seemed to be taken right out of Ella Montgomery's classroom: "Giving in to a bully never works." 
From Hanna's interactions with A to Spencer's memories of Ali, bullies never seem satisfied with what they can terrorize out of a person. Hanna gave in to A's demands and nearly cost Aria her relationship, but thankfully new kid Caleb stalled Aria's mother and provided the right conditions for a possible reconciliation between Aria's parents.
Emily's teammate Paige tried to intimidate her by threatening her reputation: "We all know what team you really play for." While Emily angrily told Spencer that she had handled the situation, Paige's aggressive escalation of her bullying (nearly drowning Emily) made it clear that Emily should've have really involved her coach when she had the chance.
Both situations could have caused real harm and both could have been avoided if the girls had just been open honest about what was going. But that seems to the theme every week and there's no reason to highlight it so bluntly.
However, perhaps most relevant to this theme was Spencer's final confrontation with Ali before the sleepover and Ali's murder. Ali forces Spencer to tell Melissa about kissing Ian, more than likely so she could have him all to herself. Spencer is angered and threatens to take away all of Ali's power by cutting her out of the group. She is finished acquiescing to her bully's demands and ended their fight by saying, "You're dead to me already."
But that wasn't the end of it. She followed Ali out of her house, and it was her shadow captured in that picture. She admitted this to the girls, but it feels like there's more to the story. Spencer withholds more than any other character, and she just might have some real clues about Ali's killer (or could be involved in some way). However, someone (A) is definitely try to implicate her by having the Bead store shopkeeper claim the fake Alison bracelet was purchased by a Spencer Hastings. Spencer may be in some real trouble soon and might even lose the trust of her closest friends.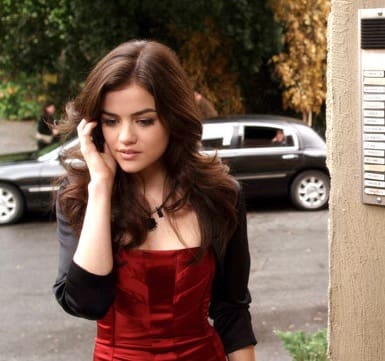 The second "lesson" of the week was all about the dangers of drugs. This isn't a new one since Maya was sent off to juvenile camp for having pot in her bag.
Still, this week the big secret about Ian - that he spent most of the summer at Ali's house hanging out with her brother - was undercut by the overly exaggerated presentation of drug use. Jason tells Spencer he probably wouldn't remember if he took the photo of his sister because he spent most of August high. He admits that Ian got high with him all the time, too, despite his clean-cut image.
The way Spencer reacts to this information you would think she was told that Ian used to kill small animals or something. The connection between being a stoner and being a murderer is a little tenuous, but the revelation does show that Ian is really good at hiding things. This was probably the most useful part of Jason's information. Ian can keep secrets really well, and he definitely spent a lot of time with Alison that summer.
However, Jason's interest in Ali's murder seems to be piqued by this new photo, and his creepy peeping into Spencer's window at the end of the episode foreshadows his further involvement in their lives, and probably a few more complications.
There were some very interesting plot developments this week and it was good to see a resolution to Hanna's money problems (perhaps A took care of Mrs. Potter for her?!?), but Aria and Ezra's relationship was a little boring. The sweet moments of being out in public together seemed to slow down the episode's pace. Also, being so open together in a city that is merely a cab ride away from home is still not smart.
Aria told Hanna that Ezra is worth the risk to her, but they are being a little too inconspicuous lately. Don't you think?