Russell Hantz may be an evil mastermind on Survivor, but his defense is understandable: it's just a game.
However, the accusations now being levied against the most notorious player in show history could ave very serious consequences.
In December, producers sued Jim Ealy for posting spoilers from the show's 19th and 20th season online. But in a new interview with The Daily Beast, Ealy says he collected all his information from Hantz.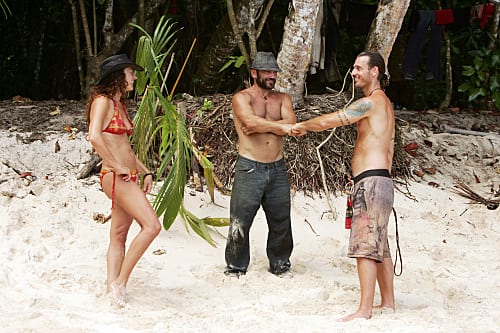 Ealy has actually produced e-mails for the website, one of which lays out the elimination order of two Samoa contestants.
"He just started coming out and telling me what happened: who was leaving, who won challenges," Ealy says. "All I had to do was pick up the phone and say 'hello' and I had anything I wanted."
Due to what they deemed as Ealy's "cooperation," CBS and producers dropped their suit against him a couple weeks ago. But it's entirely possible they pursue charges against Russell, who (like all contestants) signs a confidentiality agreement prior to appearing on the show.
Along with Rob Mariano, Hantz will be a special survivor on the Redemption Island edition of the competition. It premieres on February 16.