In the first installment of a two-part, suspense-filled episode of Criminal Minds, "Valhalla" saw Paget Brewster's Emily Prentiss facing the demons of her past. 
The opening was not for the faint of heart or those not paying exceptional attention to what was going on. Sadly, I failed the second part, and I even have DVR.
I didn't realize that two different husbands and wives were killed in two different ways until Rossi and Hotch started explaining it. 
I'm not going to try and make excuses for not following what was happening, it was just confusing. I'm not sure if it was supposed to be a blur, as there were small things that made each family stand out (i.e. the husband cursing in Italian over the spilled soda).
If it was, then great job, it worked and I got lost.
The main part of the episode is the continuation of Ian Doyle exacting revenge on those who sent him to prison. As we know from "Coda" (or learned from the "previously on...") Emily worked undercover at Interpol and was one of the major players in Ian going to jail. 
I get that she has trust issues and she is not quick to trust the BAU team. What I am clearly missing is why she is working so hard to hide what she knows from the team.
Also, how is it out of the entire BAU only the computer nerd Garcia notices that Prentiss is being weird? My boss can tell at a glance when I had something bad for lunch; how are the trained behavioral experts not noticing things like her making weird calls in the bathroom or randomly puking at crime scenes?
I do give Morgan credit for trying to get her out of her shell.
He at least took a little time and talked to her in the car. I also have to mention that Shemar Moore has a voice that would melt butter. Someone needs to get him reading some audio books, he has an amazingly smooth voice.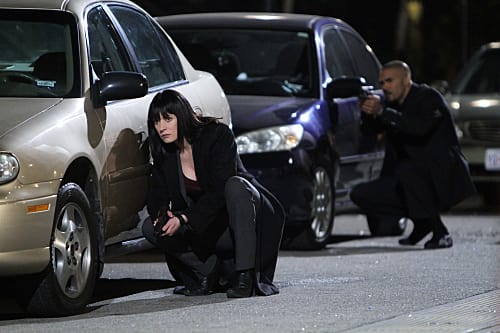 Wednesday was my first night back with the BAU team since J.J. left and while I do like Rachel Nichols, the look they give Seaver just doesn't sit right with me.
Is her hair too stringy straight or too long? Do they have her going too "doe eyed"? I can't put my finger on it but something didn't click. Maybe she's just not JJ.
Overall, though, it was the great beginning to what is shaping up to be a character changing ending to this next week. What did you think of this episode?
What do you think will happen when it comes to light that Prentiss knew more than she told? Comment below and share your thoughts on Criminal Minds.
Jim G. is a TV Fanatic Staff Writer. Follow him on Twitter.