Grey's Anatomy Gossip: Callie & Arizona to Wed This Spring?
Steve Marsi at .
Maybe it's the slew of baby shower photos that hit the web this week that sparked this marital rumor, but talk of a Callie-Arizona wedding surfaced shortly thereafter.
Can Mark be the best man for both parties? It's unclear. Asked if there's any truth to reports of a Grey's Anatomy wedding, TV Line's Michael Ausiello had this reply:
"That depends. Are you referring to the Callie/Arizona nuptial buzz, or the rumor about Der/Mer finally getting that pesky Post-It note blessed by a priest?"
"I believe the first one to be true; not sure about the second."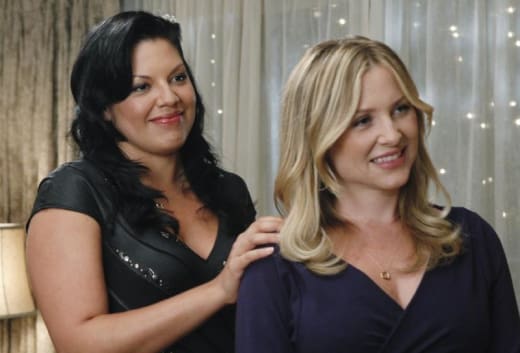 We don't know if Ausiello made that Post-It rumor up, or actually heard it somewhere, but it made us laugh regardless. As for other Grey's Anatomy developments ...
It isn't just the veterans who are doing the singing in the musical. Seattle Grace rookie Eli (Daniel Sunjata) gets in on the action, too. "I sing as a chorus member in 'How to Save a Life,' and then I have a small part in 'Running on Sunshine,'" he said.
"Most of the singing, as it should be, is weighted toward Sara Ramirez, who has vocal cords that have been touched by God. For me, singing was quite a bit out of my comfort zone. It was an interesting challenge. I hope I don't fail publicly doing it."
Now, regarding Eli's relationship with Bailey ...
Sunjata also shared that Eli's mostly-physical relationship with Dr. Bailey becomes "a bit more substantive and meaningful" in the upcoming weeks. Does that mean he might actually stick around, rather than shipped off to another Shonda series a la Jason George?
"My [involvement] is kind of open-ended," Sunjata said of his stint on Grey's Anatomy.
"I may be on until the season finale and possibly into next season from what I'm hearing, but it hasn't been hammered out officially yet." Here's hoping!
What do you think about the above spoilers and teasers? Do you want Eli to stick around - and do you think Calzona will tie the knot?
Steve Marsi is the Managing Editor of TV Fanatic. Follow him on Google+ or email him here.