NCIS: Los Angeles Review: "Enemy Within"
Steve Marsi at .
International political intrigue. Old-school deception and high-tech action. Many jokes at Deeks' expense. Daniela Ruah dressed to the nines, then taking a spill in a fountain.
NCIS: Los Angeles can't go wrong with that combination, and Tuesday's installment - the first in three weeks - reminded us why I missed LA as much as the original NCIS.
When a pro-American Venezuelan politician - a rival of Chavez - visits the City of Angels for a fundraiser, red flags are raised that he may be the target of an assassination.
But is it a rogue U.S. intelligence officer we're looking for, or an "Enemy Within"?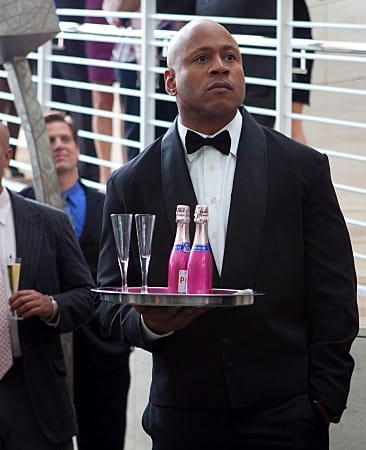 The mysterious disappearance of a Naval Intelligence Officer Dennis Chambers had the OSP team on alert, since the guy had the security details for Gutierrez's brief visit to L.A.
His CO noted that Chambers, using a controversial program called HiPs (which Nell knew all about), felt that Gutierrez talked a good game but was masking hatred for America.
Rather than an ally, Guitierrez would be a major threat to U.S. security if he elected, or so Chambers thought. But was our missing officer so steadfast that he'd try to kill him?
Kensi and Deeks go to Chambers ex-wife's home and are nearly run over by a truck matching the description of one picking up a day laborer who last met with Chambers.
That Mexican man was found murdered in the opening sequence of the episode.
Just when the evidence begins to mount against Chambers as a potential assassin, the team follows the truck lead and discovers him kidnapped - by Gutierrez's security team.
They intended to make Chambers the fall guy, framing him for the assassination they would execute from within. Some of his own employees were Chavez hard-liners. Wild.
With Chambers as bait, the team goes undercover (waiter, bellman, smoking hot fundraiser guest) to weed out the politician's three potential assassins at the black-tie event.
In addition to Kensi's awesome takedown of the would-be killer - gotta love bad ass female agents sprinting in heels - a few other scenes were particularly effective this week.
Deeks may need some classes (and more target practice) to become a highly-skilled operative, but he's a killer when it comes to comedic delivery and "working" with kids.
The team staging the daughter's kidnapping was an interesting move, since it served dual purposes - preventing someone else from doing it, or unearthing the MIA Chambers.
Finally, the "wait and see" attitude after solving the case was the most intriguing, and certainly how things work (for better or worse) in the real-life intelligence community.
Chambers might not have wanted Gutierrez killed, but if someone else did outside U.S. borders? No big loss, right? Hence the deception over his "detained" security detail.
The gray area of sanctioned assassinations by the U.S. government is exactly that, selectively promoted or subtly encouraged through omission on a case by case basis.
Combined with the characters we love and action that always leaves you on the edge of your seat, NCIS: LA often broaches national security topics rarely depicted on TV.
Needless to say, it's made the show a huge hit in its second season. There's simply never a bad episode. Here's another look at the climactic scene from "Enemy Within" ...
What did you think of last night's NCIS: Los Angeles? Discuss!
Steve Marsi is the Managing Editor of TV Fanatic. Follow him on Google+ or email him here.