NCIS: Los Angeles Review: Deeks, Kensi Finish "The Job"
Steve Marsi at .
Kensi went undercover last night on NCIS: Los Angeles, and in addition to making possibly the hottest cat burglar ever, she played a key role in an intriguing heist caper.
While cementing her status as a bad ass special agent, "The Job" also marked another step in Kensi's continuously evolving, entertaining partnership with Deeks.
They may not have a catchy couple name like Tiva, but they're headed down a similar road to possible couple-dom. Even if it never happens, I love the dynamic.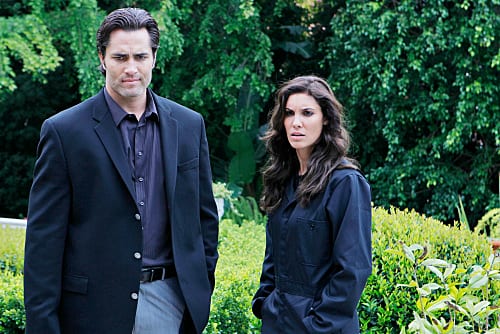 As with NCIS, the cases are always well-written and exciting, but it's the characters and their relationships really make it work. Last night, both shows epitomized this formula.
Sam and Callen carried much of the load in NCIS: LA's first season, but lately, Deeks and Kensi are giving them a run for their money. Especially after last night's installment.
With Kensi undercover and working with a thief who happened to be both very dangerous and good-looking, Deeks was uneasy for several reasons. Sam and G. took notice.
Just how much of Deeks' concern for her was driven by romantic feelings, we may not know for some time. But I love the partnership is progressing beyond the witty banter.
Deeks' assurance that he'd only be one step behind her, and his face/body language when he saw the explosion, told the story. He's connected to her, more deeply than ever.
These agents are more than standard law enforcement officials. With their covert, high-stakes ops, their lives are perpetually in harm's way, which helps forge a unique bond.
Should they get together? Should they not? It's a question I can't answer right now, and perhaps the characters can't either. But I love watching them on screen every week.
Like Sam and Callen, there's an "opposite worlds" element to their interactions, leading to many laughs. But I actually can envision Deeks and Kensi as a compatible couple.
It remains to be seen whether we'll be strung along for 5-6 years or if NCIS: LA will actually go there, but regardless, they're making this second season a lot of fun to watch.
Even if he needs his beer opened for him, he's boyfriend material, don't you think?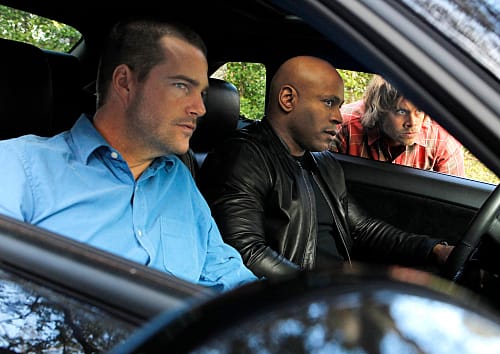 Her reason for going undercover was to stop Stanley King, a renowned thief, from ... something. They didn't know what for some time, but let him lead them to the crime.
His prize turned out to be stealth technology hidden in a vase by a recently deported Chinese diplomat, which King wanted so that he could sell it to the Chinese for profit.
One of my colleagues recently mused that you rarely, if ever, see an NCIS episode involving a crime other than murder. It looked like we might get it last night, but no.
King is infamous for killing off his team after pulling a heist, and did so twice in shocking fashion. Fortunately, Kensi escaped, narrowly, thanks to her skills - and Deeks.
He was one step behind her, just as he promised. When Kensi gets King into a storage unit where the technology is hidden, the agents stopped him in the nick of time.
Of course, Hetty already had the vases switched so that fabricated technology would end up in the wrong hands. The puppet master is always one step ahead ... or 12.
Interesting case this week, even if the resolution felt a bit rushed. You don't see a lot of art heists tied into national security matters, but it was quite well done overall.
A few additional thoughts and observations on this solid episode ...
No offense to any clowns reading this right now ... but I'm with Sam.
Eric and Nell totally don't get any respect. But we appreciate you guys!
Deeks definitely did not recognize that voice. But maybe someday ...
Was that Deeks' second shout-out to Twitter fans in as many weeks?
What did you think of last night's NCIS: Los Angeles? Discuss!
Steve Marsi is the Managing Editor of TV Fanatic. Follow him on Google+ or email him here.