Pretty Little Liars Season 2 Spoilers: Who is Going to Therapy?

TV Fanatic Staff at .
So... that was it?!? Such was our critic's reaction to the first season finale of Pretty Little Liars.
Before reading any further and gaining insight into season two, check out the TV Fanatic review and see if you agree with this writer's assessment. Okay? Ready?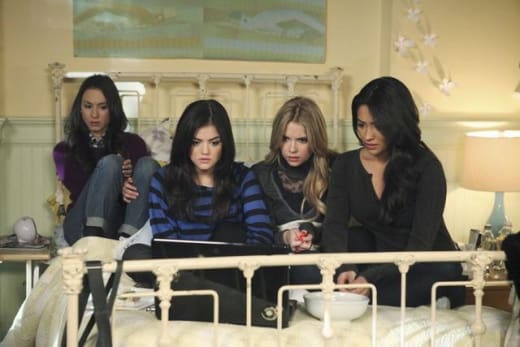 Pretty Little Liars returns in June and executive producer Oliver Goldstick says at least one significant shift will involve Ezra and his job status.
"We're putting Ezra in a new place," Goldstick tells TV Line. "Mr. Fitz [is] leaving Rosewood High... It will definitely put 'Ezria's' relationship in a new context... We're going to play it very much as a relationship that has many obstacles - the teacher/student element may be lifted, and other [problems] present themselves next season."
All of the girls will be "in trouble" when the series returns, Goldstick previews, adding the following tidbits:
More Maya: Bianca Lawson is on her way back to the show. "Maya went off because we had to shake it up a little bit," Goldstick says. "We all thought it was interesting to see what would happen if when Maya went away, Emily was put in the position where she was the one who became the teacher in the relationship. The Emily/Maya relationship had played itself out at that point and we wanted to give new drama and a new path for Emily. But there are plans for her to return. We adore her."
More Spencer/Toby: Look for this relationship to grow "very much in Season 2," teases Goldstick, adding that it "is more complicated because of what happens in the finale."
Professional help on the way: "As a result of what happens in the finale, the girls' status in Rosewood becomes very precarious, very shaky," Goldstick says. "If they weren't thought of as liars before, they will certainly be thought of as that when we start the second season. They'll be sent to a therapist who has some strong ideas about when these girls should interact again, if at all."
What did you think of the finale? Sound off in our Comments section and/or our Pretty Little Liars forum!