The Big Bang Theory Review: "The Prestidigitation Approximation"

Eric Hochberger at .
Hey guys, it's your favorite Shamy-hating critic here again, back to take over weekly reviews of The Big Bang Theory. 
Luckily, I popped back in for an Amy-less (and unfortunately Bernadette-less) episode, "The Prestidigitation Approximation," to make my transition a little easier.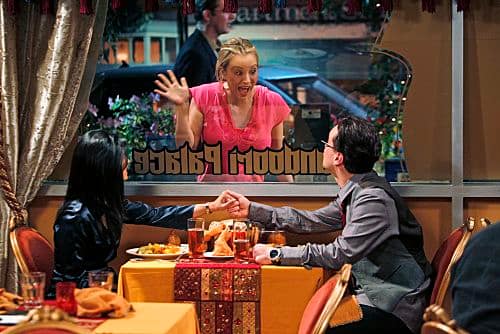 As nice as it was to see Leonard get the A-story this week, the guy deserves better. The entire Priya plot was straight out of the generic sitcom handbook. That's probably where Chuck Lorre and company found the shtick where he switched from glasses to contacts and walked into every wall.
Penny, as hilariously pictured above, was definitely the highlight of Leonard's adventure.  Her entire interaction with Leonard at the Indian restaurant was cheesy and over-the-top, but somehow still believable as Penny.  Seriously, what would Leonard do without her?
Priya, unfortunately, was first introduced as a fairly complex, layered character, but has now just become a butt of a series of Indian jokes.  Don't we already have the amazing Raj for that?  Please find something else to do with this beautiful actress!
As usual, though Sheldon was there to pick up the comedic slack. This week felt like a throwback to days of old, before Jim Parsons was given his Emmy and forced into every scene and plotline possible. He was relegated to the B story here with Wolowitz and Raj, and delivered reliable laughs without any Sheldon overload.
While I may have predicted the card trick shenanigans of Wolowitz from the opening scene, it never stopped being funny as Sheldon tried to reverse engineer the trick. Great stuff, right down to Raj gesturing the "Two of Hearts."
Overall, it was a perfectly acceptable episode of TBBT and I'm looking forward to critiquing my favorite nerds again when they return on March 31.  Until then, I'll leave you with my favorite The Big Bang Theory quotes with more to come later in the afternoon.
Priya: Just because you're in bed Indian woman, you think that gives you permission to use crazy positions from an ancient Indian love manual?
Leonard: If you could find a book called "Weird Sex With White Boys," I'd be OK with that. | permalink
Penny: Not knowing's part of the fun.
Sheldon: Was that the motto of your community college? | permalink
Raj: Beefaroni and a show? How do you turn that down? | permalink
Sheldon: Where am I going to find Uranium-235 this time of night? ... C'mon, Craig's List! | permalink
Eric Hochberger is the programmer of TV Fanatic, so please forgive his mediocre writing. His programming is far better. Follow him on Twitter and/or email him. Just don't request threaded comments. They're coming.