NCIS: Los Angeles Review: Frelting the Ice
Steve Marsi at .
This episode came one week too late for Eric Beale.
While Barrett Foa's character on NCIS: Los Angeles put up a good fight in TV Fanatic's King of the Hot Nerds poll, Eric really stepped out of his comfort zone and shined Tuesday.
Had "Rocket Man" aired a week earlier, perhaps more fans would have backed this terrific character. If it's any consolation, E, you won our respect last night on many fronts.
Best of all, he didn't even need a weapon to do it.
It made sense that this week - like Season 7's NCIS episode, "Ignition," in which Eric's hot nerd counterpart McGee played a centrak role - was the biggest one yet for Mr. Beale.
The team's case literally involved rocket science (a fact that nearly escaped Hetty, who cracked herself up), and they needed Eric's unparalleled brainpower more than ever.
Not only that, they needed it in person.
Eric was worried and so was I. You could really feel for the poor guy. Sam and Callen are seasoned vets, Kensi is thoroughly bad ass and even Deeks is more or less fearless.
Mr. Beale? Not so much. He relishes life in The Chair, with his shorts and plaid hooded sweatshirts. Field work wasn't for him, and he knew it - even before he almost died.
He was as nervous about not wanting to hurt anyone as he was about completing the designated mission. These little moments really give
NCIS: LA
a great human element.
This isn't to say that Eric isn't tough. After being nearly frozen and then melted, as the victim in the opening sequence was, he decided to stay the course and finish the job.
Fortunately, he had Nell backing him up every step of the way (we can't wait for a Rene Felice Smith-centric episode), resulting in some sweet scenes with his colleague.
At the end of the day, Eric decides that the field isn't for him. Hetty agrees. She knows her personnel better than they know themselves, and manages the team flawlessly.
I'd love to see her reaction if he asked if he could carry a weapon ...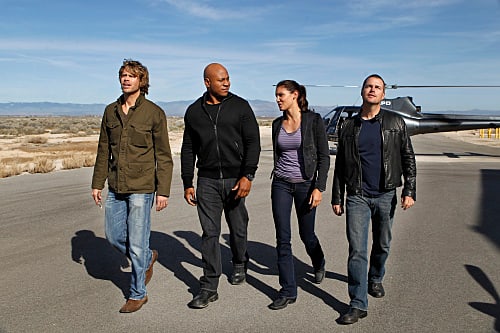 All the characters of great, but Hetty is the straw that stirs the proverbial drink. One can only hope she remains at the top for some time, despite this curious casting move.
As for Tuesday's case, there was plenty of the misdirection and action that are hallmarks of NCIS: LA, and it was a typically strong effort, if not one of my personal favorites.
It seemed far too easy for a person to be trapped in such a hard core testing chamber (not just once, but twice no less), but you can expect some creative liberties on TV.
The list of suspects included some red herrings, while the plot to stage the explosion so that the perpetrators could escape undetected with the satellite was a nice twist.
There were also plenty of great Deeks moments, from his bid to make "frelted" part of the lexicon to his word puzzling prowess to the description of his home decor.
Finally, Callen told a great Sam story at the beginning, but really made my night when he revealed that he told Eric a "truth re-imagined for the greater good."
Sounds so much more virtuous and intelligent than "I lied," doesn't it?
What did you think of last night's NCIS: Los Angeles? Discuss!
Steve Marsi is the Managing Editor of TV Fanatic. Follow him on Google+ or email him here.