The Big Bang Theory Review: "The Zarnecki Incursion"

Carla Day at .
First, I have to proclaim that I've never played World of Warcraft.
I've wanted to play, but it seems very complex. To be honest, I can barely play Lego Batman. Despite my video game challenges, I found "The Zarnecki Incursion" quite funny - especially with the dueling situations of the guys (and Priya) in one apartment, while the girls were in the other.
I know that not everyone likes the addition of Bernadette and Amy as regulars on the show, but I find that they provide a nice counterbalance to Sheldon, Leonard, Howard and Raj.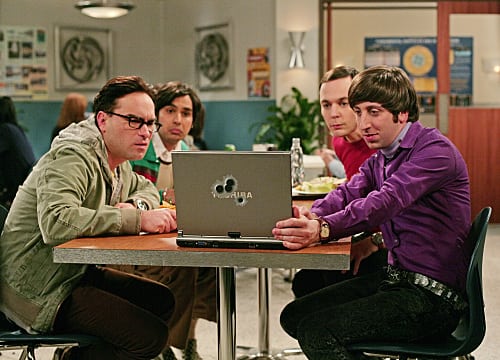 Now, Priya... she can go. She's there simply as a barrier to a Leonard/Penny relationship and, I hope, to be the impetus that gets them back together. In that regard, I don't mind her, but I've had enough and I'm ready to see her leave California. Unlike Penny, Priya doesn't understand the world in which the guys live. This distinction was clear by their short encounter in the hall after Penny dropped off the day-old pie to Sheldon.
The quest to get Sheldon's World of Warcraft stuff back was a little weak to me, as it seemed like it had been done before. The confrontation at the door reminded me of when Leonard and the guys went to Penny's ex-boyfriend Kurt's to get the money he owed her in "
The Financial Permeability
" and failed.
Moreover, the scenes in the car weren't that much better. I'm pretty sure they have done the broken down car thing before; if not, it is still an overused plot device. That said, there were a few funny moments. I loved that the "Beyonce's Bootylicious Dance Mix" turned out to be Wagner's "Ride of the Valkyries." And Sheldon bringing his collector Klingon bat'leth to the door was so Sheldon.
Overall, I was happy with the quest, despite Penny's actions and Leonard's lie to Priya making it pretty clear that they belong together. My favorite scene of the whole show was that slow, awkward, silent walk up the stairs that Penny and Priya had to endure. Torturous for them, hilarious to me.
Relive a few of the best Big Bang Theory quotes from a solid half hour below:
Penny: Today's the day a girl's finally going to touch you in your little special place. | permalink
Leonard: Oh, geez, I - I don't know if I can ditch Priya two nights in a row.
Raj: Oh, come on, man. Bros before... my sister. | permalink
Raj [to Priya on the phone]: Look, if you want your relationship with Leonard to continue you're going to have to believe whatever wild-eyed cockamamie excuse the white devil has the nerve to offer you. | permalink
Sheldon: Three thousand hours, three thousand hours clicking on that mouse, collecting weapons and gold. It's almost as if it was a huge waste of time. | permalink
Carla Day is a staff writer for TV Fanatic. Follow her on Twitter and on Google+.