This United States of Tara episode was titled "Wheels." Which is ironic. Because, following a few significant developments, no can accuse the show of just spinning such apparatuses on season three.
A lot is moving forward. Hints are clearly being dropped about Max leaving; Kate has finally found direction in her life; Marshall is also about sexual experimentation; Charmaine and Neil are new parents; and, oh yeah, Tara might legitimately be insane.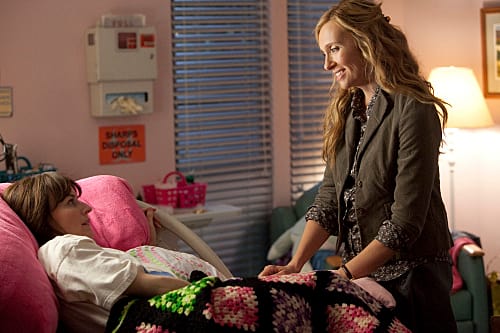 I've been confused for a couple weeks now each time Tara actually confronts her alters, but now it makes sense - pretty much because it doesn't make sense. She's never actually interacted with Buck and company before.
It's all a sign of how far out of touch Tara herself has become. It was sincerely disturbing to come back to reality in that final scene, witness to a disheveled, ink-stained woman. As impressive as Toni Collette can be in each of her personalities, she was never better than in that final shot of Tara, utterly defeated and depressed.
I'm fucking crazy.
Now, it feels like season three can really begin and I'm fascinated to see how Dr. Hatteras deals with his new student/patient.
Elsewhere, solid progress was made on all character fronts. I'm loving the extra focus on John Corbett and the idea that Max might really leave. I'm sure he won't. He made it clear he loves his wife. But... could anyone really blame him if he did finally get sick of it all?
Marshall and Kate have also come into their own as teenagers still unsure about life, but not sitting back and letting it overwhelm them, either. Sure, let's try a threesome! Hey, I should be a flight attendant! Neither of these decisions might go well, but at least the kids are exploring who they are.
The same can be said for Charmaine, who has been an entertaining, albeit self-centered character, for two seasons. But now she's a mom. Now she's responsible for someone other than herself. It was painful to watch her snub her sister, but, again, I ask: Can anyone blame her?
Matt Richenthal is the Editor in Chief of TV Fanatic. Follow him on Twitter and on Google+.