The hunt for a Navy SEAL impostor and a potential dirty bomb (again) made for a strong episode of NCIS: Los Angeles, but Hetty's actions cast a pall over it throughout.
Hetty had been behaving strangely all night and Agent Callen, like the rest of us, just wanted to get to the bottom of why. By the end of the night, he wasn't any closer.
In fact, the mystery deepened as Hetty resigned and a new Operations Manager, played by Claire Forlani, has apparently taken her place. Why did Hetty step down?
The brief glimpse of her in Prague indicates that it wasn't to sit on the beach in the Maldives. Henrietta Lange is operating outside NCIS parameters, but she is still on a mission.
A mission, next week's promo hints, that has to do with Callen.
Next week's second season finale revolves around Hetty's sudden resignation and Callen's attempt to track her down. This intriguing plot could go in any number of directions.
What they find and whether Hetty returns, Forlani's character stays on or both is anyone's guess, but this largely overshadowed the bulk of last night's episode, solid as it was.
In "
Imposters
," the team investigated the murder of a man posing as a retired Navy Seal who was hired by a radical anti-government group to make a dirty bomb form them.
The victim, Carl, was posing as his childhood friend and real Navy Seal who died in the Gulf War. Carl assumed his identity and persona. As Deeks said, we've seen this before.
He got mixed up with a group of radical anarchists who got their hands on a fourth missing canister of radioactive pharmaceuticals, which was traced to Yusef Afzal's murder.
The team follows the residue of the material and Nell finds the middleman between Carl and Afzal's killers. It turns out the leader of the radical group, Shepherd, hired Carl.
When Carl didn't deliver on his fake promises, Shepherd had him killed. The team set a trap for Shepherd and apprehended him after he nearly blew up an entire public park.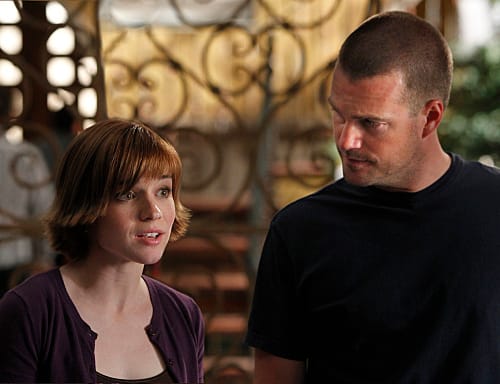 Luckily, the bomb that was placed in the trash can did not contain any radioactive material. Still, as Callen and Sam said, it'd be a shame not to let the bomb squad do its job.
As expected from a show that never disappoints, "Imposters" contained all the elements that make NCIS: LA fun. Deeks and Kensi are hilarious, and Sam was in rare form.
The fact that someone posed as a Seal ate at Sam, who was particularly testy (and funny). He's always a strong presence, but it was great to see LL Cool J at the forefront.
It says a lot that the characters on this show can make you laugh out loud a half dozen times a week while still making you take their business seriously. It's a hoot.
Between Hetty exclaiming "Mother Hubbard," Sam and Callen arguing over whether to go on vacation together, Sam berating Eric over his sardine sandwich and Deeks complaining he was "cop-blocked," the funny moments were almost too numerous to count.
Nevertheless, there was a sense of poignancy, and urgency about last night, making for an interesting juxtaposition with the typically strong doses of humor and action.
It was touching to watch Hetty reach out to the agents, even if by doing so, her departure (hopefully short-lived as it may be) was foretold. How will it play out next week?
Comment on that and last night's NCIS: Los Angeles below.
Steve Marsi is the Managing Editor of TV Fanatic. Follow him on Google+ or email him here.