Pretty Little Liars went all Vampire Diaries on viewers this week.
Not much happened over the first 50 minutes of "The Goodbye Look," aside from a few unintentionally funny lines (Zombies don't text! I need your help. You're the master of time... Thanks, can I call you back later?), but the episode stopped treading water and starting swimming as furiously as Emily after the final commercial break.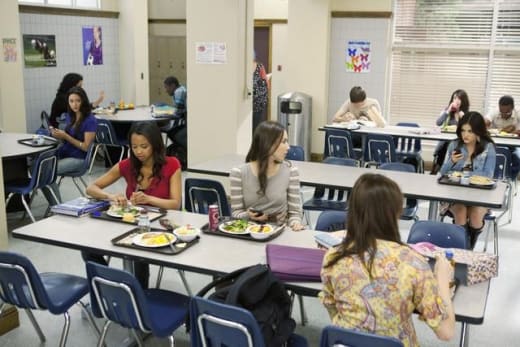 Consider all that went down in those final few minutes:
Jason proved he's either a dedicated gardener
... or something far more shady. I'm calling "red herring!" on this storyline right now, as I believe Jason will end being a good dude who only cares about finding his sister's killer.
But the show clearly wants us to suspect the worst about him at the moment. Having a dog sniff around his property definitely helps with that.
Aria made up her mind about Ezra... with the Kiss of the Decade! I was annoyed that the slow motion scene was played so dramatically at first because, come on, Ezra is really going anywhere. Aria has the key to his apartment and he's just going to teach at college in town.
But my eye rolling turned to eye watering when Aria leaped into her former teacher's arms. It was the first time they could make out in public and the couple took full advantage of it. H.... O... T.
Spencer discovered her sister is a liar... or that someone wants her to believe this is the case. Again, I'm calling a fake out. I think Melissa really was home all day, but the same person who infiltrated the family's home and shoved Aria aside stole Melissa's boots and made it appear as if she left.
Emily bored me... and that's about it. It's unclear (read: not illogical) why Danby would care if she transferred high schools at this point. Many high school seniors sign scholarships before even entering their final year; it wouldn't make a difference where she went for a semester in real life.
There were a few other irritations on the episode: if the girls were so curious about Ian texting Melissa, why didn't they check her phone's Sent or Received Messages? They are rather adept at technology, right?
It was also disappointing that none of the key characters who appeared last week - Noel, Caleb and Dr. Sullivan - showed up here. The show can suffered continuity problems at times.
But, overall, a tense closing few moments saved what had felt like a boring episode. As always, I'm anxious to learn more. What about you?
Matt Richenthal is the Editor in Chief of TV Fanatic. Follow him on Twitter and on Google+.