The jury is in: USA Network has delivered another character-driven drama molded to match its diverse lineup of original summer programming.
On the Suits premiere, we meet Mike Ross (Patrick J. Adams), a college dropout with an extraordinary memory and a passion for the law. He teams with Gabriel Macht's Harvey Specter, a sharp-tongued ace closer, making for an unlikely partnership between two dynamic leads.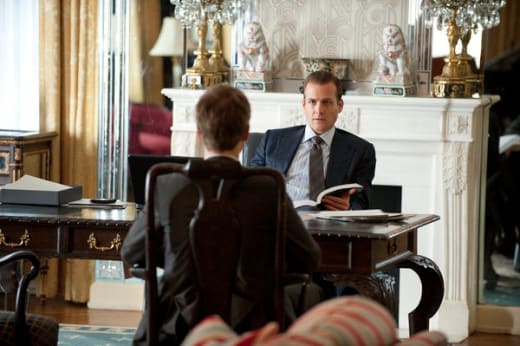 This budding bromance, forged on witty banter and film references, can officially be added to the quirky tandems that comprise USA Network originals (Shawn/Gus on Psych, Neal/Peter on White Collar), making Mike and Harvey a must-watch addition to any primetime schedule.
So, why is
Suits
original? Because the title stands for a lot more than just the tailored fabric of the corporate world. Carefully and artfully, both Mike and Harvey mask their respective realities.
They way he's dressed, you'd never know Mike wasn't really an attorney. The better he plays the part, the longer he's likely to get away with it, which is a necessity given what we learn about his situation. Quick note, though: Mike may want to watch who, and how often, he asks for help filling out subpoenas.
Harvey, meanwhile, is beholden to firm partner Jessica Pearson, who apparently paid his way through Harvard Law School. Life is more complicated for both these individuals than they let on.
Enemies abound for each, as well. Harvey faces Louis Litt, who is determined to catch his rival in even the slightest of infractions. It's safe to assume he won't hesitate to turn him in should Harvey and Mike's secret get out.
Mike faces his best friend Trevor, from whom Mike's path has sharply diverged as a result of his chance encounter with Harvey. Will he be able to stay clean and keep his distance? And what's with Trevor's girlfriend? She seemed pretty sweet on Mike, which might make for a nice little love triangle running in the background. Let's hope it stays there for now.
I was impressed and intrigued by all the plots weaving in and out of this pilot. Not only were we introduced to some of the back stories and motivations of our leads, but we also learned about those around them.
Paralegal Rachel Zane is a brilliant researcher with ambitions to be a lawyer, thwarted only by her testing anxiety. Could Mike's knack for law test-taking tempt him to ace the exam on her behalf later on?
And what about firm partner Jessica Pearson? What prompted her generosity towards Harvey all those years ago, and what should we make of it going forward?
As for the case: Mike discovered how the practice of law isn't something that can be perfected in books; only experience can make one understand it. The intrigue surrounding the company's obstruction of justice charge, which Harvey cleverly discerned, made all the difference in the outcome for their client.
It's these kind of examples - where the clients aren't just firms, but individual people - that will create a rewarding partnership for Harvey and Mike in their quest for second chances.
One thing's for certain: Suits needed just 90 minutes to become one of this reviewer's summer favorites. What did you think of the chemistry between Macht and Adams and the show overall?
C. Charles is a TV Fanatic Staff Writer. Follow her on Twitter.