It's only the second episode and I'm already hoping that the Big Bad has done something to his son to protect him from the Mai should he ever become entangled with them.
Brian and his dad don't appear to have a close relationship, so that might be wishing too much.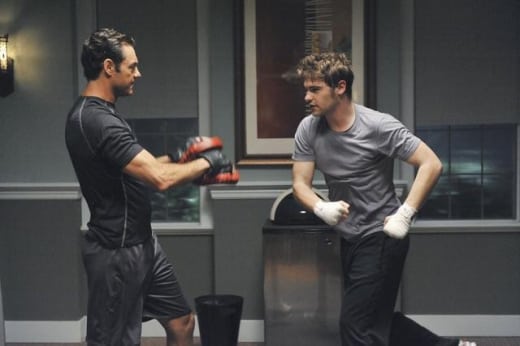 Brian and Chloe are the perfect television couple, like Romeo and Juliet, as they can't (and shouldn't) be together, but they are absolutely perfect for each other anyway; you can't help but cheer them on as they areeach  kind and completely unassuming of the heightened world in which they now reside.
I cannot believe I didn't see it coming that the scarred guy was the real killer of Xavier. I don't know if it would be worse for her to know he was killed by someone else merely because of his association with her or by her own hand with her very first kiss.
Could it be that for eons the Mai
have
been able to mingle with humans, but people like Whitley Rezza, in their fear of the race, or perhaps jealousy of it, have done everything in their power to keep them apart? If they've never tried a relationship with a human for fear of killing them, then maybe those like Rezza have been ensuring it never happens by doing the killing themselves.
The Mai seem to be good folks. If someone tells a good person that one kiss with a human could mean his/her death, how far would you go to make sure this didn't happen? The myth could have been passed down for generations.
Chloe needs to learn about her race as soon as possible. She's the Uniter, but Alek and Jasmine have told her nothing of merit. She's taking her lives for granted, helping the innocent and fighting the good fight because she knows if she dies, she'll come back to life.
It doesn't seem wise to be flaunting them, no matter how good the cause. Instead of protecting her and just watching her every move, it's time for Jasmine and Alek to explain to her what it means to be the Uniter.
Why is she so important to her race? They understand her heart now and know she's not going to let harm come to others if she thinks she can made a difference, no matter who they are. It's time to explain to her this this much higher purpose to she must live out.
From what I can tell so far, the Mai have been waiting forever for this Uniter. And if she is it, there won't be another. That puts a lot of responsibility on the shoulders of Alek and Jasmine to keep her safe, but also on Chloe to tow the line.
They have give her a break, she's new at this. Anyone in her place would feel the same. For your first kiss to kill the receiver for no other reason than a racial barrier would be pretty much to absorb. She needed "Redemption." She needed to know that she could do something to make her mistake right. It was admirable. Unfortunatey, it was also unnecessary thanks to Rezza.
Nine Lives has given me the right amount of new, unexpected information to tune in again next week. Even if the only reason was the hope that Chloe and Brian make their way together, despite the many forces keep them apart, we've been given a gripping back story to explore. So far, both of my thumbs remain up!
Carissa Pavlica is the managing editor and a staff writer and critic for TV Fanatic. She's a member of the Critic's Choice Association, enjoys mentoring writers, cats, and passionately discussing the nuances of television and film. Follow her on Twitter and email her here at TV Fanatic.