Marshall moved out of the house to kick off "Crunchy Ice," relocating all the way to... his grandmother's house?
Considering the troubled teen's declaration that he needed to get away from his dysfunctional family, it seemed rather weak for the show to simply place him a simple drive away.
But this irritation was made up for when Marshall stopped at home and was thrown to the ground by Bryce. It was nice to see Tara snapped back to reality following that encounter, a confrontation that would be any mother's worst nightmare.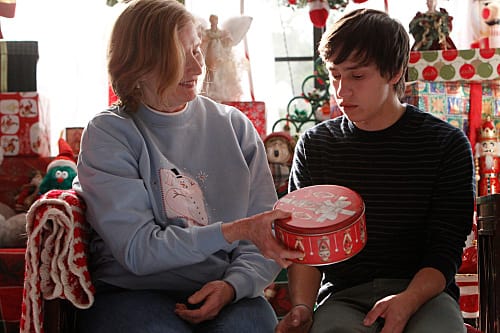 Among my many reasons to praise this season of the show has been the spotlight it's shined on Keir Gilchrist. He once again rose to the occasion as Marshall, making viewers feel every ounce of pain that was going on inside of a boy who has essentially lost his parent.
But is that parent truly ready to get better? Apparently not, based on the action that concluded the episode.
Where is she running off to? And why? The series has done an outstanding job this season of depicting how Tara's disorder is far more dangerous than the family previously thought, but can Tara herself really not see that?
For someone who wants to rid herself of these alters - that's why Tara sought Hatteras' help to begin with, right? - it's unclear why she's resisting professional help. 
Elsewhere, both Kate and Charmaine have really grown over the last few episodes. Mostly self-centered and unsure of their future for a duration of the series, true love appears to have set them straight. The latter can fight it, but Neil is clearly The One for her.
I'm betting Evan will be for Kate, as well. Even a crazed toddler can't get in the way of how he makes her feel.
What did everyone else think of the episode and how it led into next week's finale? With the unfortunate news that Tara has been canceled, how do you think the series will play out?
Matt Richenthal is the Editor in Chief of TV Fanatic. Follow him on Twitter and on Google+.