The Who Let the Dogs Inn? You got me, Wilfred.
I've been critical of this FX series for relying too much on the concept of a man dressed in a dog suit, but I'm a sucker for puns. The aforementioned named of Wilfred's canine care center on "Acceptance" was enough to make me a fan of this episode.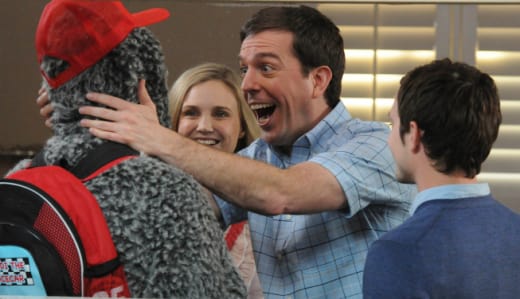 I'd still love to watch an installment without a reference to sex, and I still don't fully understand why or when Wilfred switches from a dog who understands everything on a human level to one who thinks a teddy bear is real... but I did enjoy the following jokes/references:
Wilfred thinking he invented the saying "you can't teach an old dog new tricks."
Wilfred claiming he can't be racist because he can't see color.
Ryan's subtle throwaway line about how he's sick of Wilfred "critiquing" all his bowel movement.
You can also can't ever go wrong with Ed Helms as a guest star.
As I've said through the short run of this series so far, I don't care for its attempts to send a message about happiness or trust or, in this case, acceptance each week. It feels like the show is trying too hard to be profound whenever it veers into that territory.
But The Who Let the Dogs Inn?!? That's comedic gold!
Matt Richenthal is the Editor in Chief of TV Fanatic. Follow him on Twitter and on Google+.