The jury is still out on whether "Compassion" was the funniest episode of Wilfred thus far, but there's no doubt it was the most meaningful.
It definitely had its funny moments, most of which came from Wilfred's infatuation with Ryan's mum and sudden hatred of Jenna, but it was returning to Ryan's apparent psychosis that made the episode so interesting.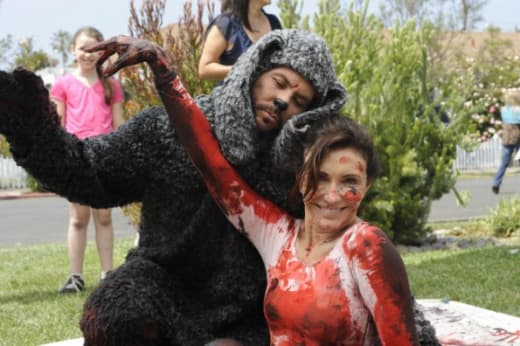 The series began with Ryan going crazy, wanting to kill himself, and seeing a dog as a man in a dog suit. Sure, he has been a bit nuts throughout the season, and has continued to see Wilfred as a man, but the actual problem hadn't truly been addressed until "Compassion."
And they built it up so well with Mary Steenburgen so fabulously playing Ryan's crazy mother, which caused everybody - including Ryan - to start thinking about the idea of him ending up a nut like her.
When they took him away for screaming at Wilfred, and blaming him for everything that had happened, I thought that this was a nice way of showing that he is actually crazy. It was something that we always knew was true, I mean, he sees a dog as a crazy Australian dude in a suit, but this put an exclamation point on it.
When the doctor allowed him to leave after three days, it seemed like a nice way of shoving the whole subject back under the rug... until the final reveal. We now know that just like Ryan, Catherine sees her pet as a person in a costume, and she probably started to do so at about the same age as Ryan. They are more alike than he ever thought, and he'll probably never know it.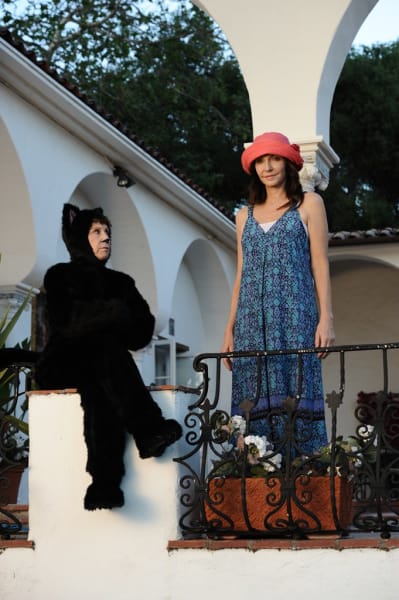 Some of my other favorite moments: Wilfred telling the ducks he's "gonna kill them," the entire sequence about Ryan's compassion for his mom and the length of his dick being equal, and the dinner table scene when Wilfred's infatuation was at its best right up to the point that he snapped at Jenna for interrupting Catherine.
And now, after checking out some of our favorite Wilfred quotes from "Compassion," let us know what you thought of the episode.
Catherine: Indian Chief, woo woo woo woo. That was a little racist but it was fun.
Wilfred: How is that racist? Indians do that all the time. | permalink
Wilfred: For a guy who once tried to kill himself, you don't have a whole lot of compassion. | permalink
Catherine: Mrs. Newman is my slave name. You can call me Catherine. | permalink
Ryan: I'm not crazy.
Wilfred: Said the man to the dog. | permalink
Ryan: You son of a bitch!
Wilfred: How is that an insult? I've never understood that. | permalink
Dan Forcella is a TV Fanatic Staff Writer. Follow him on Twitter.