Private Practice Season Premiere Review: "God Laughs"

Christina Tran at .
Welcome back, Private Practice fanatics! Addison and company returned this week for the fifth season premiere and I can finally say that my Thursday nights are feeling a bit more complete.
Picking up right where we left off last season, the scene with Cooper finding Pete on the living room floor was absolutely heartbreaking. I couldn't stop thinking: Poor Lucas! Luckily, Cooper saved the day and got Pete to the hospital in what appeared to be the nick of time. It's such a relief that Pete is going to be okay.
By the way, how great was Addison with Lucas?! She really is going to make such an incredible mommy someday.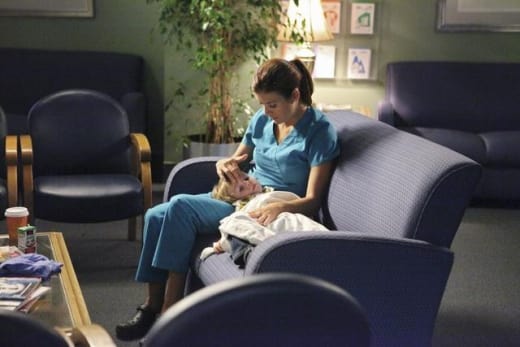 I was overly thrilled to hear that Addie finally made an appointment with a fertility specialist. I loved how frazzled she became when she realized that would be Jake Reilly, her mystery man. Benjamin Bratt was quite charming, and it was clear that Addie thinks so, too. Although it appeared that Sam and Addie are back together, I can't help but wonder for how long because Jake and Addie sure do have chemistry.
As always, I thoroughly enjoyed the Cooper and Charlotte scenes. I honestly can't get enough of their banter sessions. Regardless of what's going on in every episode, it always seems like these two can escape the rest of the drama. I'm hoping we get to see more of their relationship as a married couple develop throughout this season.
While there was much that I liked about the premiere, I still didn't care too much for Violet. I strongly questioned if it were realistic that a complete stranger would really tell another person his or her darkest secret in a public place like the airport. Even in a moment of despair, it was incredibly strange to me that the lady at the airport was able to tell Violet about her troubled and failing marriage concerning her abusing husband.
I didn't believe it when Violet said that she didn't mean to eavesdrop. And I definitely appreciated when the woman told Violet: I appreciate your concern, but this is just none of your business. I know it's in Violet's nature to always want to help, but she tends to always be butting into people's business.
Thankfully, Cooper said everything I wanted to say to Violet. I was so glad that he yelled at her for trying to run away from her problems in regards to her license and a fight with Pete. This might sound a little harsh, but sometimes I don't think that she deserves Pete and Lucas. Maybe she'll finally come around this season.
Last season, I continuously questioned why Amelia didn't have her own storyline. Although I thought she was entirely unprofessional in performing surgery after clearly being intoxicated, I must admit, it was honestly nice to see a continuously developing arc for Amelia. Charlotte justly suspended Amelia's privileges... again. It needs to stick this time around. 
Overall, I thought that "God Laughs" was a great way to kick off what appears to be an exciting year for our favorite doctors. I'm ecstatic about the developments for this season and especially for our girl, Addie.
What were your thoughts of the premiere? What would you like to see happen this season? Sound off now!