The Big Bang Theory Review: "The Infestation Hypothesis"

Carla Day at .
"The Infestation Hypothesis" focused on the best relationship on the show: Penny and Sheldon.
For awhile last season, these two overtook the sitcom a bit too much for my liking, but I'm glad to see them highlighted again. Not only does Penny understand Sheldon, unlike others in his life, she doesn't put up with this idiosyncrasies. She tells it to him like it is and won't give in to his odd demands.
Before Sheldon freaked out about the chair, how fun was it to see and imagine an old married couple of Sheldon and Penny? They clearly don't belong together in a romantic sense, but it did highlight their strong and genuine friendship. That's what old married couples really are, right? During that scene, I wouldn't have thought that it would end with Sheldon running out of her apartment in his whitey-tighties. But that was hilarious! And, the look on Penny's face... priceless.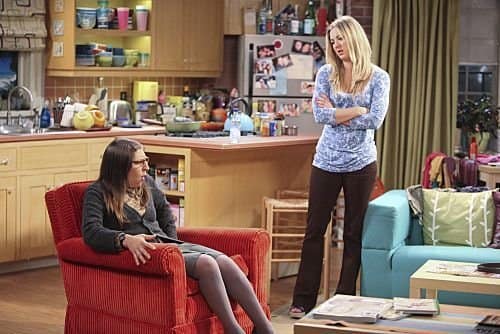 In the past, Sheldon would have gone to Leonard to help him with Penny, but with this situation he went to Amy. I was glad to see that he took that route, it showed how Amy is now an integral part of their group. This is a comedy, but I loved seeing Amy's character growth. She would never have asked for a kiss before meeting Penny. It will be interesting to see if Amy outgrows Sheldon socially because he is clearly still stunted in that area.
Leonard is clearly more socialized than Sheldon, but he definitely had issues with Priya this week. I didn't care for the Skype sex scenes at all. They really weren't that funny and I actually was a little disturbed by them. Priya's parents showing up at the end was very predictable and disappointing.
While I didn't like the Leonard and Priya story here, it was all worthwhile. While it was also very creepy to watch, the Raj and Howard kiss was hysterical. The sexual innuendos between these two best friends occur on a regular basis, but this was the first time that I can remember that they engaged in a sexual activity. Of course, they didn't even realize they were doing it, but that's not the point. We, the viewers, got to see it. Perhaps the funniest part was watching Leonard's reaction.
As I wrote last season, I'm not a fan of Priya. I wanted her to go far away, but I meant off the show, not across the world. I hope that this long distance relationship ends quickly! After watching these first two episodes, I realize I miss Leonard and Penny, even if they aren't together. I want to see their banter again! Along those lines, catch up now on the best Big Bang Theory quotes from premiere night.
Carla Day is a staff writer for TV Fanatic. Follow her on Twitter and on Google+.