The Big Bang Theory Review: "The Skank Reflex Analysis"

Carla Day at .
The Big Bang Theory premiere, "The Skank Reflex Analysis," picks up the same day as last season's finale and deals with Penny and Raj's night in bed together.
Sheldon's belief that Penny was being literal when she said, "It's not what it looks like" was quite funny. Jim Parsons plays the clueless, yet brilliant Sheldon perfectly here. It cracks me up when he can't comprehend events that a "normal" person just naturally understands. I'm not sure how Leonard continues to put up with him, though we know how well it worked out when Leonard moved out.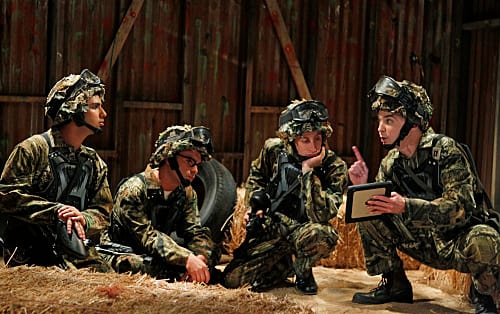 In last season's finale, I was disturbed by the Penny-Raj liaison. It was all kinds of wrong, but the way it played out was hilarious. I was happy to find out that they didn't actually have sex, but the situation showed the true friendship between the guys. Leonard's reaction to blurt out Raj's secret crush on Bernadette was natural and showed that while they are nerds, they are also human.
Despite what happened, the guys still teamed up to go play paintball. That surprised me a bit, but it was worth it to see Sheldon sacrifice himself to bring the guys back together in the end. I had to watch Sheldon getting bombarded with paint balls a couple times. Funny stuff.
One complaint is Raj's need to drink in order to talk to women. This really needs to stop. I appreciate the show's continuity by having him drink a beer when Bernadette comes over and take swigs from the flask at Amy's door, but Raj must have a terrible drinking problem at this point. I'd love for him to find another way to talk to girls, because he's much more interesting when he interacts with them.
For a show that started out with Penny as a sidekick to the guys, she has come a long way. My favorite moments in the episode weren't with the guys at all. Instead, it was when Penny and Amy were together and when Penny and Raj had their heart-to-heart.
I wonder if the truth will ever come out? I've previously been a fan of Penny and Leonard getting back together, but after this episode, I'm not sure. The show is much funnier when they aren't together and, to be honest, Leonard has become one of my least favorite characters. I'm hopeful that with Priya in India that will change.
Carla Day is a staff writer for TV Fanatic. Follow her on Twitter and on Google+.