The was way harsh, Sutton. Bitching out your sister when she's doing YOU a favor? Not cool. In "Over Exposed," we discovered many things, including why Sutton Mercer is known as such a brat.
Was anyone surprised that Ethan finally planted a big smooch on Emma? He basically found a more genuine, good-hearted, and identical version of his girlfriend.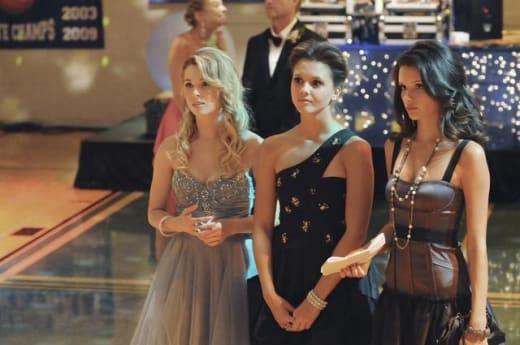 These sisters will eventually have to come face to face and when they do it's not going to be pretty. Kind of like the confrontation between Alec had with Eduardo for hooking up with his teenage daughter. Poor Eduardo, he tried to do the right thing and ended up hearing an extremely secret and important conversation about the girls birth mother.
Alas, we found out that
Annie Hobbs is alive
. She's also in an institution, drawing pictures of her long lost girls. As the desperation in Sutton's search heightened, she ended up landing herself on a red flag list at Annie's hospital. The staff is now under strict instructions not to let her in.
Somebody (Alec, duh) is trying to keep Sutton and Emma away from the birth mother, but why? And what was with that 80s prom picture that Ted showed to Emma and then got all weird about? These new revelations raise all of the stakes and add more fuel to viewers' theories.
I have to say, as a fan of TLG's sister show, Pretty Little Liars, I'm pleased that developments actually go down each week on TLG. Instead of being consistently strung along, we're unraveling the mystery. Knowing that you'll finally get some answers makes you want to tune in more.
Well... aside from the original plot point of the girls looking for the mother. Now, we've got a bunch of new drama on the horizon. Emma and Ethan kissed. Sutton is pissed at Emma and rebounded with Thayer, her best friend's brother. Mads and Eduardo are no longer a secret.
All of these hook ups are starting to make this feel like Gossip Girl, but hey, the juicier the better! After all, that's what indulgent teen soap operas are for, keeping us on the edge of our seats.