It isn't always easy differentiating right from wrong. In fact, some of the Oceanside Wellness doctors were caught "Breaking the Rules" to help their patients and to keep their secrets hidden on the second episode of the season.
I've said it a dozen times, and I'm going to say it again: Regardless of the situations Charlotte and Cooper are in, they always seemingly shine. Even when they were arguing about how to proceed with Cooper's patient, I couldn't help but feel like they had each other's backs. And, quite frankly, I absolutely love that!
I was upset that Cooper crossed the line and lost Charlotte's trust by breaking into her computer, but that's so Cooper. He's relentless when it comes to helping his patients. Luckily, his patient survived thanks to the stolen cord blood and forged documentation.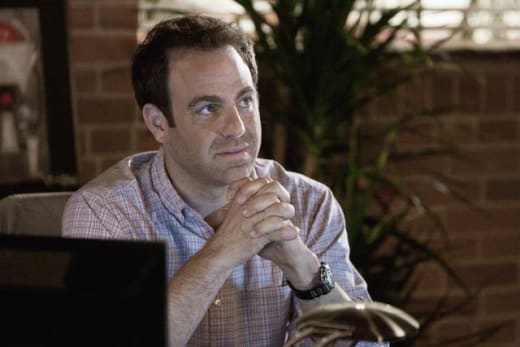 That's just it, though. Last week, Amelia cut into Pete's head when she clearly had a drink or two prior to the surgery. This week, Cooper broke the law and technically stole to save his patient. In both scenarios, the patients survived. However, it's disconcerting to constantly see the doctors simply get so... lucky. What if Pete hadn't made it? What if the transplant didn't work out for Cooper's patient? What if the donor's family needed the blood?
Moreover, I'm glad that Sheldon stepped up and talked to Charlotte about her relationship with Amelia. It's too bad that Amelia can't be mature enough to see why Charlotte had to suspend her from surgery. One thing's for sure, Amelia's growing sobriety issues continued to take a turn for the worst. 
Elsewhere: I was ecstatic when Pete lashed out at Violet. When Pete appeared at the practice, I thought it was way too early. However, when I saw Violet there, I knew he was trying to get away from her. I'd be doing the same thing. Sure, Pete has grown "mean" and probably shouldn't use Violet as a "punching bag," but she isn't the easiest person to live with either. Again, I know that she was merely trying to help him during his recovery, but I definitely can understand why he might need some space from her.
As for the main lovebirds, they seemed genuinely happy. However, whether you're an AddiSam shipper or not, you've got to admit that any scene with Dr. Jake Reilly and Addison is entertaining. Do you think that Addison should have told Sam about Fiji, or "almost Fiji" as she put it?
By the way, how psyched are you now that Addison is content for a chance? From forcing Sam+condoms, giving up coffee, and getting off of birth control, Addison is obviously serious about getting a baby this time around (with or without Sam). Finally!
Overall, I thoroughly enjoyed this installment of Private Practice. It will only be a matter of time before Amelia's sobriety issues, as well as Addison's near Fiji incident, come to light. Until then, I'll be on the edge of my bed waiting next Thursday night to see what's to come of our favorite doctors and their soon-to-be-renamed Oceanside Wellness.
What did you think of "Breaking the Rules?" Are you still rooting for AddiSam? If not, what should we call Jake and Addison? How about... Jaddie?!?