Don't you just love Thursday nights?
From Amelia's unbearable request from a friend to Addison's head-on collision with the PMS truck, "Step One" felt like a rollercoaster of emotions. And quite frankly, I didn't want the ride to end.
First, I'm always down for continuity in storytelling and appreciated Amelia's heartbreaking storyline. However, I couldn't stop thinking: Poor Amelia, especially when Michelle returned needing Amelia's help to end her own life.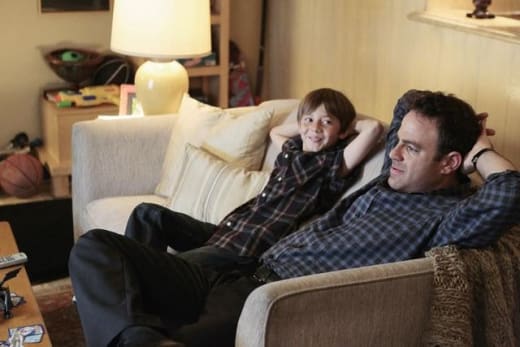 While both Pete and Sheldon reminded Amelia that she took an oath to do no harm as a doctor and that euthanasia is considered murder in California, Amelia was deeply conflicted as she had promised to help Michelle. Isn't that what friends do?
I just knew all would not be okay once Michelle was released from the hospital after the unsuccessful assisted suicide attempt. Yet I didn't expect for Michelle to actually go through with the suicide and leave Amelia in an even darker place than ever. Maybe it's time McDreamy paid a visit to Seaside Health and Wellness and stepped in to help his little sister out. She really needs someone, as the worst is yet to come for Amelia. I hope Charlotte will be the one to help her pick up the pieces and that they'll be able to rekindle their friendship much sooner than later.
Speaking of hope, Addie was finally learning to have some. It was hilarious seeing her go through a whirlwind of emotions due to her starting her vitro fertilization treatments. With every passing episode, I grow more and more excited for her and her future as a mother.
Then again, I also continue to wonder how AddiSam will make it if the latter continues to state he is not looking to be a father again. Sure, he admitted that he will always love and support Addie, but it just doesn't make sense to me.
One thing is for sure, though: Addie and Jake's undeniable chemistry. As much as I love Cooper and Charlotte's scenes together, I absolutely adore seeing Addie and Jake together almost as much. How much longer do I have to wait to see something happen between these two?
As for Cooper, I enjoyed the father-son bonding. Although I would have much preferred to have Charlotte included in his newfound family, it was kind of fun seeing Cooper and his Mini Cooper fishing and watching Phineas and Ferb together.
I can't help but question, however, how long Mason and Erica will be sticking around and whether or not Erica will ever forgive Charlotte for last week's incident. What would you like to see happen?
I thought this week's medical case was well written and have always enjoyed stories without an entirely happy ending. Private Practice always has a way of giving you a chance to weigh options and then realize that there isn't always a right or wrong answer. And this week a mother gave her son exactly what he thought he needed regardless of the circumstances and what the doctors ordered. She loved him that much.
Finally, I've saved the best for last. As most of us would agree that Violet exists solely to meddle in others' business and to annoy the crap out of us, I'd like to formally introduce the Violet Annoyance Scale (VAS). Following every review, I'll examine the ever-so-popularly irritating, infuriating, frustrating and aggravating Violet and give a rating (based on a 1-10 scale).
So, to get things started, I'm rating last night's episode a - drum roll, please! - solid 5 on the VAS.
Violet has been much worse, but this week we saw her baking with Lucas and she wasn't her usual narcissistic self. Let's not forget, though, that she wants to sue the medical board now, and even admitted to Addie that she feels as if, since Pete's surgery, her only purpose is to be solely a perfect wife and mother.
For starters, what's wrong with that? Secondly, shouldn't those roles always be considered top priorities anyway? I get that she misses her job, but let's face it... we hardly see her interacting with her son. As for the wife part, I think she she's got a lot of making up to do. Both Lucas and Pete deserve better. 
Now, it's your turn. I'd love to see your rating and hear your thoughts on "Step One."