The Big Bang Theory Review: Halloween Hijinks

Carla Day at .
The Big Bang Theory did Halloween this week in "The Good Guy Fluctuation," and instead of getting bogged down in traditional holiday events, it was all about scaring the crap outta each other. And, well, Leonard's girl troubles.
Don't get me wrong, I don't advocate cheating. Ever. Okay, I do. Leonard what were you thinking? Break up with Priya! She is across the world and, more importantly, not right for you! Alice was perfect. She was cute, funny, had common interests and lives in California. What more could you want? The writers messed this one up big time. Any chance he can repair the damage and get Alice back? For the first time, I didn't want Leonard and Penny to be together. That's huge.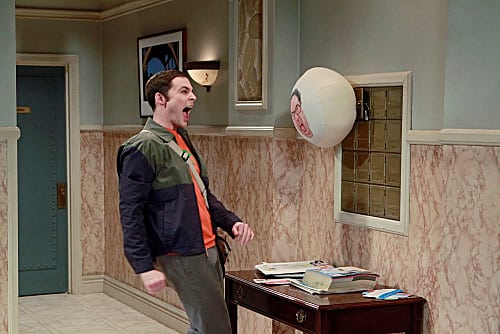 Sheldon oh Sheldon ... so smart, yet, so clueless. How can you not just adore this guy? Jim Parsons should submit this episode for his Emmy consideration because he rocked it tonight. In typical Sheldon fashion, he was not fooled by the elaborate horror show put on by Raj and Howard, but freaked out at the unexpected sight of Leonard in a monster mask. While that was funny, it was merely a set-up for Sheldon to get payback - mostly unsuccessfully.
Sheldon's first few attempts were surprisingly weak, but in the entirety they were brilliant and they worked. They progressively got more elaborate from the snake, to the mailbox, to the electric shock handshake. Sheldon shaking his own hand and electrocuting himself was laugh-out-loud funny. Even better when you realized that he pranked himself worse than his friends ever did, by electrocuting himself not once, but twice.
Did you fall for Howard's pretend heart attack? At first I thought he was faking, but then thought it was real. Poor Sheldon. Played again! In the end, though, Sheldon got the best of Leonard and it was worth the 30-minute wait. I'm pretty sure that I jumped when Sheldon appeared from within the couch! It doesn't get better than this. "Bazinga, punk. Now we're even."
Overall, this was a well-done Halloween episode. The only thing that was missing was the whole crew dressing up together. I did miss that from previous episodes. Did you enjoy it?
Check out this week's spooktacular quotes! (Corny? Yeah. Hilarious lines? Heck yeah.)
Carla Day is a staff writer for TV Fanatic. Follow her on Twitter and on Google+.