The Big Bang Theory Review: Hanging with Mrs. Cooper

Carla Day at .
On this week's The Big Bang Theory, "The Rhinitis Revelation," Sheldon's mother stops by for a visit - and that means lots of laughs!
Mrs. Cooper (Laurie Metcalf) is a unique addition to the show when she visits. Here, we saw a different side to her. She wasn't there at Sheldon's beck and call, instead she had her own ideas about how she wanted to spend her time. I was just as shocked as Sheldon when she refrained from jumping up and making him fried chicken. I also expected she would cringe at the idea of going out for sushi as Leonard suggested.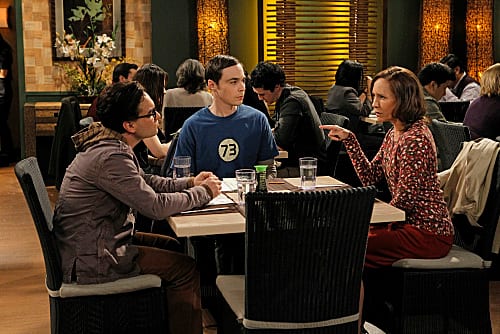 It was a pleasant surprise to see Mrs. Cooper wanting to try new things, a sharp contrast to her anal retentive son. However, I don't expect she'll be eating sushi again any time soon and her idea of sightseeing included all the local churches. Her lines were by far the funniest of the night, even outdoing the usual winner, Sheldon.
I do understand if some people found her comments somewhat offensive. Or even entirely offensive. When it comes to comedy, I don't believe in political correctness. That doesn't mean I think it's acceptable to tell jokes that hurt someone, but outside of that, just about anything goes. Mrs. Cooper's set in her conservative, old-fashioned ways. While she may be misguided in her word choice and even perhaps her beliefs, she doesn't intend to hurt anyone. Hence her humor here, especially as Leonard corrected her.
The writers did an amazing job of balancing her awkward comments with her genuine caring nature. She was there for each of Sheldon's friends to support them and help them work through their problems. In the end, she was there for Sheldon as well by telling him to grow up... and then singing Soft Kitty to him.
I'm not sure if Sheldon's conversation with Amy, encounter with the common man on the bench, or heart-to-heart with his mother really got through to him or not. Will he change his superior ways? I don't think so and for the show's sake, I'm not sure I want him to. At the same time, it has been enjoyable to watch Amy become more "normal" through her friendships with Penny and Bernadette. Is it time for Sheldon to grow up? Do you want to see that transformation?
Check out this week's The Big Bang Theory quotes and relive the laughs!
Carla Day is a staff writer for TV Fanatic. Follow her on Twitter and on Google+.