The Big Bang Theory Review: "The Wiggly Finger Catalyst"

Carla Day at .
Finally!
In "The Wiggly Finger Catalyst," Raj finds a girlfriend that he can communicate with and without alcohol. When the season began, I complained that it was getting a bit old for Raj to need a drink to talk to the opposite sex. While I'm not sure his issue is going away, it was refreshing to see that it is at least possible. I'd love to see the show use the new relationship between Raj and Penny to wean him off the alcohol altogether, wouldn't you? If anyone can do it, Penny can!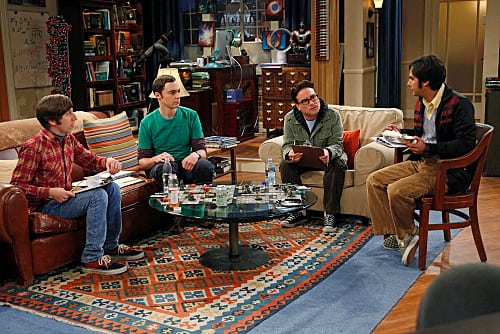 The Big Bang Theory used Switched at Birth's Katie Leclerc perfectly as Raj's deaf gal pal, Emily.
Through Raj may have been able to interact with Emily, he was still socially inept. The funniest lines of the night were him trying to be "cool" with his love interest. Despite the fact that Raj now has one, Howard was still involved by translating for his buddy. This kept the Howard-Raj bromance alive. After the first date, they both acted like they had found someone! As much as I think I'm over the Howard-Raj jokes, I guess I'm not tired of them because they still make me laugh every time.
Unfortunately for Raj, his romance was short-lived. Well, for him, it was probably the only relationship he's had that lasted over a month. Who said money can't buy you love? Poor Raj! The show does a great job of incorporating his parents via Skype whether with him or Priya.
I always suspected that Raj's family had money, but "Richie Rich" money? Nope. The show has a tendency to drop storylines from one episode to another, but this is one I hope remains. It would be interesting to see how his bank account changes the dynamics of the group going forward. I suspect that the clique leaving him with the Cheesecake Factory bill will be the last time it will come up for awhile.
The secondary story of the night was Sheldon's resolution to use dice to make decisions. It was a fitting story for Sheldon and created some funny moments. I wish they would have shown a decision or two with greater ramifications than bad food or facial hair. We didn't see him deal with any terrible dice decisions or consequence. This quirk was infinitely better than last week's train obsession, though.
After the last episode's off-week, this was a welcome return to the hilarious show that I love! Check out some of the The Big Bang Theory quotes from the episode and sound off now.
Carla Day is a staff writer for TV Fanatic. Follow her on Twitter and on Google+.