Burn Notice Review: Now Where Were We.....
Jim Garner at .
The mid-season premiere picked up where we left off with Michael being in the situation where he was damned if you didn't or "Damned If You Do."
Let me say right up front, Anson is 50% insane Joker, 50% suave Captain Hook, and 100% bad news. Not only is he bad news, he's evil bad news. Michael may have finally met his equal. 
I can already tell that Anson is one of the smartest, if not the smartest opponent Michael has faced off against. Look at how he has been able to stay hidden, and has set both Michael and Fiona up in recent days.  He's so evil you almost want to like him. Honestly, I can't wait to see what he does next.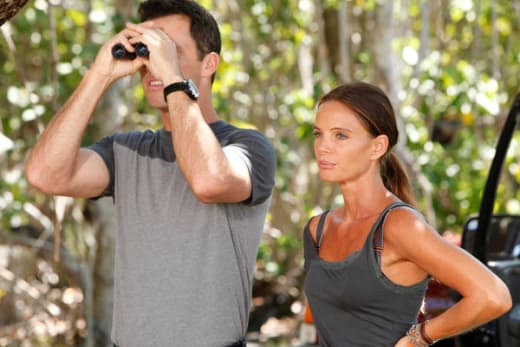 On the flipside we have Agent Pearce who started the episode pretty hostile, but ended it smiling at Michael. 
Does anyone else think that his meeting running long and her comment about "Only tell the lies we want" hints toward him having told her about Anson and they are working to catch him? 
Maybe I'm just projecting my wishful thinking onto Michael. But, it would be an awesome twist if he actually went against his nature of keeping stuff close to the vest and let her in on the secret and *we* were the one's not in on it?
I do love when a show picks back up and feels like a comfortable blanket, just enveloping you and fitting just as you remember it. Everyone was great, from Madeline earning her "Spy 101" badge, Jesse and Sam meeting Anson, and I adored Fiona giving Michael are hard time for being sincere. 
Hell, even the bad guys were a bit on the dreamy side. I hope that we get to see Xavier again. Ian Anthony Dale made a pretty hot drug kingpin in his awesome suit and three-day stubble.  
Matt Nix even managed to speak to my inner-geek by throwing in a reference World of Warcraft when Sherry and Oswald were fighting along with some other great lines this week. 
Speaking of Sherry and Oswald, they really felt like "what if Michael and Fiona were nerdy geeks?" Not that it's a bad thing, speaking as a nerdy geek. It was just nice to see a similar relationship dynamic and know that Fiona and Michael might make it after all.
In conclusion, with Anson steering the ship right now, I think we should all buckle up because it is going t be one crazy ride! 
Jim G. is a TV Fanatic Staff Writer. Follow him on Twitter.