Pan Am treated viewers to a game of "Truth or Dare" this week, while Kate and Laura essentially played the game with their lives. Everything fell into place... and then fell to pieces. It was an effusive plane ride that sealed Pan Am as one of my favorite television shows.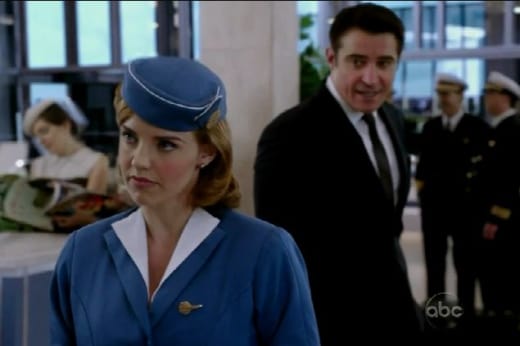 Having Issue
The turbulent 60s were in the spotlight here, as both the Cold War and racial topics were brought to the forefront. We could see it happening, but hearing Kate say she's in love with Nico was worth the wait. The way she and Laura shared that moment, with Laura not even disturbed about Nico's communist status, was touching. Just like real sisters, when the time arises, their affection for each other trumps all else. Laura just wants her sibling to be happy.
The dramatic way in which they took Nico was startling. Kate makes working as a quasi-agent seem so easy and glamorous, but she really is in over her head. Did it truly never dawn on Kate that her apartment might be bugged? She looked completely shocked when Nico played the tape to her.
The scene as she explained she was both Nico's and working on the part of the United States almost had me in tears. Her appeal transcends both moments of confidence and utter weakness. Kelli Garner just takes my breath away. When she and Nico said goodbye, even in a coded language all their own, I lost it. Their romance was something out of a movie and I hated to see it end. Somehow, I felt like I was the one saying farewell. It was beautiful.
People don't often realize how far we have come as a nation with regard to race until you watch something like the relationship between Joe and Laura. Just walking with him in the train station caused a fight to break out. Literally. Once Laura got to know him, she was so ashamed that she allowed herself to fear him and keep him at arm's length. Before they parted, she cuddled up and said she would always close her eyes and remember him if she ever found herself afraid again.
Truth or Dare
We learned some really fun things about the stewardesses this week, as watching their girl time together is never disappointing. Can you believe that Laura took nude photos? Apparently it's against the Pan Am code of ethics, which could come back to hurt her later. She said the photographer wasn't the type to have sex with, but definitely to pose for nudes. That's something she wouldn't have done if she had gotten married!
While she never got to tell the other girls, Colette did win her dare. She talked her way into the co-pilot's seat and Dean let her take wheel. It was the first time she has ever been portrayed as genuinely happy.
Who Was Missing?
There was little Maggie, Ted and Dean. What we did see of Dean was much better in context with Colette. Even though it's moving like molasses, I have a feeling they will eventually become more than friends. There is a mutual respect there that would build a solid foundation for them.
Even though Ted's adventures with Laura have been pleasant, too much of him can be, well, too much.
When we last saw Maggie, she was telling the vice president that his girlfriend was sleeping with Dean. It obviously saved her job, but to this point it seems nothing has come down on Dean as a result of her revelation. She got to enjoy some time with her journalist friend, and we had a show with relatively short Maggie scenes. Win win!
I appreciate what Pan Am is trying to accomplish each week. This had to be the best episode to date, and if it continues in this vein, I see no reason it shouldn't be a success. Everything about it was so well-excecuted. The acting was spot on, as were the generational references. Bring on more episodes, not just more scripts, ABC!
Carissa Pavlica is the managing editor and a staff writer and critic for TV Fanatic. She's a member of the Critic's Choice Association, enjoys mentoring writers, cats, and passionately discussing the nuances of television and film. Follow her on Twitter and email her here at TV Fanatic.