The Big Bang Theory Review: Sheldon Gets a Girlfriend!

Carla Day at .
All the Amy haters are probably not too happy with "The Flaming Spittoon Acquisition." From the previews, I was looking forward to the Sheldon and Penny interaction, but unfortunately it was quite brief.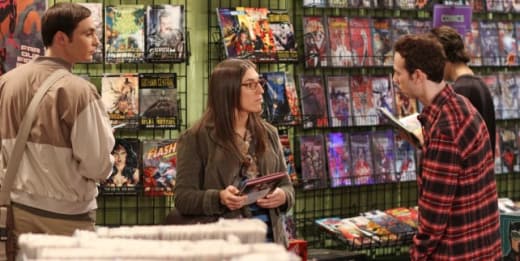 Over the last few episodes, it's become clear that Sheldon and Amy were not emotionally or physically maturing at the same pace in their relationship. When they first met, Amy was as relationship-challenged as Sheldon. However, through her friendship with Penny, Amy's becoming more socialized.
Sheldon is... Sheldon. Despite some personal growth, he is fundamentally still the same. He has his quirks, rules, and personal boundaries that may at times be stretched, but aren't going to change. Unless it's about Facebook, it seems. His friending Stuart to get the scoop on his date with Amy was surprising, but brilliant. I loved that he unfriended Raj, Howard and Leonard with each of their comments.
Amy deserves to be happy and in a compatible relationship, so it was perfect for her to go on a date with Stuart. The writers made a good decision to pick a character that we already knew. It made the story work better than if it was some unknown person from work or elsewhere.
Sheldon's reaction was a bit surprising, as he went out of his way to NOT want a girlfriend. Why all of a sudden would he get jealous and ask out Penny? Right, he is maturing. And, who is the only other female he knows? Penny.

Sheldon's realization that he didn't want to lose Amy was odd, but worked in the end. Because Amy didn't annoy me in this episode, it give me hope that their new arrangement will fix the "Amy" problem. This new relationship is bound to have plenty of funny situations ahead of it.
Will the relationship agreement  be the new roommate agreement? I'll hold my thoughts on that for now because it could work and be hilarious or it could just be regurgitating a joke we've already seen. Who would have thought that Sheldon would have a girlfriend but not Leonard? I'd love to see Leonard use the roommate agreement against Sheldon. That would be hilarious!
Stop by and check out the funny Big Bang Theory quotes from this week's show and sound off now with your take on it.
Carla Day is a staff writer for TV Fanatic. Follow her on Twitter and on Google+.