TV Fanatic Staff Selection: Angela For Sexiest Sidekick!
Steve Marsi at .
Collectively, they bring a vast, diverse array of looks, lines and actions to the table, but a number of the nominees for TV Fanatic's Sexiest Female Sidekick competition are underwhelming.
Pam from True Blood? Eh, whatever. Sarah Walker from Chuck? Okay, I know better than to get on her bad side, but she's just not my cup of tea. Donna from Suits? Is that even a real show?
When I think of a strong, sexy sidekick who has it all, Angela Montenegro of Bones is the winner. Played by Michaela Conlin, this is an awesomely complex character unique to today's TV landscape.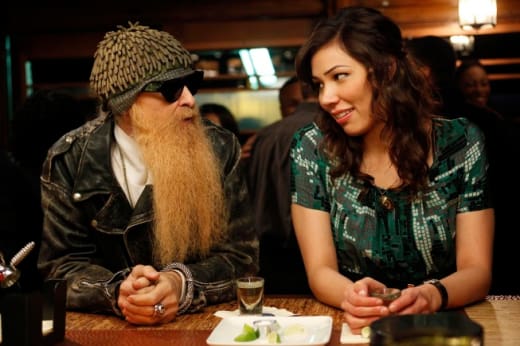 Singularly, and together with husband Jack Hodgins, Angela is a true sidekick to the alliterative couple that drives Bones. Booth and Brennan call the shots, but Hodgela makes the Jeffersonian a well-oiled machine.
A much-needed counterbalance to the nerdiness of the squints, Montenegro possesses actual social skills and a perspective on life that transcends work, yet remains pretty darn great at forensic reconstruction.
Because of Angela, the weekly victims - presented to us via gross-out gags, then dissected by Brennan's robotic precision - are given a layer of humanity. This contribution is vital and shouldn't go unnoticed.
She's a scientist, yet still an artiste, a free-spirited wild child who has matured since the show's inception in manner that's not only believable, but which has made her more appealing and well-rounded to viewers.
For six seasons, we've seen her evolve and become grounded enough to be a wonderful mother while still maintaining the edge that defined her for so long (her son's name is Michael Staccato Vincent, after all).
Angela is one of the only people I know who can make 3-D graphics and computer simulations hot. It's unclear how the Jeffersonian gets its seemingly endless funding, but this woman obviously needs a raise.
Angela also was/is bisexual. Need I really do on?
She may be a sidekick, but she's so invaluable that the show would feel completely empty sans Angela. As Hodgins himself once said, she's "the heart of the operation." And she's certainly won mine over the years.
Finally, lest we forget, her father is Billy Gibbons from ZZ Top, and she was originally named Pearly Gates (after his guitar) before legally changing her name. That alone should win her this competition.
Who's your pick? Vote in our survey below! The poll closes at 5 p.m. EST on Friday, November 4.
Poll is now closed! Here are the results:
Kono Kalakaua (Grace Park) - Hawaii Five-0
3.8%
Britta Perry (Gillian Jacobs) - Community
1.1%
Angela Montenegro (Michaela Conlin) - Bones
7.9%
Donna (Sarah Rafferty) - Suits
4.3%
Fiona Glenanne (Gabrielle Anwar) - Burn Notice
3.4%
Pam De Beaufort (Kristin Bauer) - True Blood
7.9%
Caroline Forbes (Candice Accola) - The Vampire Diaries
27.7%
Astrid Farnsworth (Jasika Nicole) - Fringe
7.4%
Sarah Walker (Yvonne Strahovski) - Chuck
30.4%
Bonnie Bennett (Katerina Graham) - The Vampire Diaries
6.0%
Steve Marsi is the Managing Editor of TV Fanatic. Follow him on Google+ or email him here.