Nothing like coming back from turkey-feasting break to an intense episode of CSI such as "Zippered," where bullets went flying when Catherine and Agent McQuad were trapped in a truck trailer.
To start, I was thrilled to see Grant Show and Matt Lauria guest staring as McQuad and Pratt, respectively. Because they have both recently been on my other show Burn Notice, it was nice to see a couple familiar faces, especially when you enjoy their work.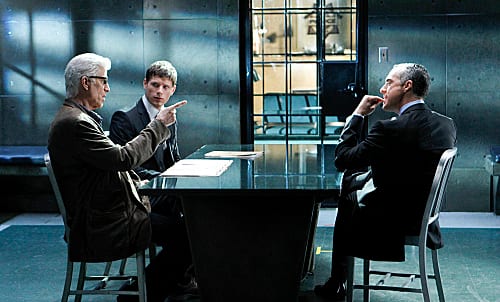 The way they were building up the relationship between McQuad and Catherine, I wondered if they were setting him up as the basis for her to take the job in DC. It would have been a good hook that the guy she likes just started a new job there.
Since we know that Marg Helgenberger is leaving the show and that Elizabeth Shue will be replacing her, I through maybe this would the beginning of that transition. If you watch the way Catherine looks around D.B.'s office right at the end of the episode, you can see that Catherine has decided internally that she doesn't want to be the boss there again.
We also learned a bit more about D.B. this week, as he mentioned a little about his workings in Seattle. I really like the guy. While I had my doubts early on about Ted Danson coming to CSI, I'm so happy with it right now I could dance. 
He brings such a lighter, yet more confident energy to the entire team. I can't tell you why specifically, but he really does remind me of the Grissom. Maybe it's his obsession with plants, akin to Grissom and his bugs. 
We didn't see much of Morgan this week. In fact I think we saw more of Xiomara (the gun expert) than we did of Morgan. I'm okay with it, though, I really enjoyed Monique Gabriela Curnen on Lie to Me during its last season, so seeing her working with the CSI gang has been a treat.
As far as the case went, I'm going out on a limb and say that we have not seen the end of this one. If the story felling incomplete at the end wasn't enough, TV Fanatic recently reported that Lauria and Show have been signed for a multiple episodes. Add to that Titus Welliver was also reported to be a new bad guy and you get a pretty compelling argument for not staying away for too many episodes if you want to see how this ends. 
Finally, it looks like we are going to get at least one more installment before the winter holiday break, so maybe a few mysteries will be revealed. If not, maybe we can ask Santa for spoilers. 
Jim G. is a TV Fanatic Staff Writer. Follow him on Twitter.