What makes both Abu Nazir's plan of attack against the United States and Homeland's story of deception so successful is that they are both constructed from a number of intricate layers. The thought process that has gone into each has been incredible, and that was never more apparent than in "Representative Brody."
It seems as though Nazir has three Americans working for him that we know of: Tom Walker, Sergeant Brody and the apparent mole inside the government.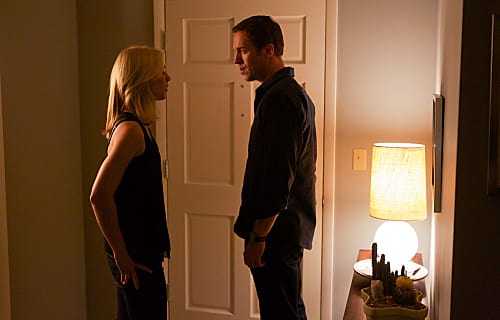 Walker is the short-term guy, the one who has been given violent tasks to perform in the States. We witnessed his efforts at their finest when he hired the homeless guy to deliver the briefcase bomb to Al-Zahari this week. His attack was smart, it was destructive and it caught the CIA by surprise. His time is going to run out quickly, I'm sure, but all Abu Nazir seemingly needs him for is to be the shooter at Marine One.
Because Walker knew that the CIA was following said rendezvous with the Saudi diplomat, it became more obvious that there is a mole within the American government. It's another layer to Abu Nazir's plot, and another way for him to complete his tasks. 
Finally, Nazir has the long-term game thanks to Brody. Walker is playing out some of the early goals of Nazir, but he is also distracting higher-ups from Brody, who is now looking to quietly infiltrate the system. It's yet another layer to Nazir's plan, giving the terrorist leader a future whether or not Walker succeeds now.
Not only do all of these layers create for a more successful villain in the way of Nazir, but they also beget a much more interesting and lasting television series.
If there was no Walker, and Brody was the imminent threat - like many of us thought in the early going - Homeland might not have anywhere to go after the first season. It might have turned into another 24 where the plot of each season basically repeated itself year after year.
Instead, by giving us these two American traitors, as well as an unknown mole, this show definitely has places to go. Hopefully, Carrie and the gang can stop Walker from completing his task by the end of this first season. If they do, there is still the threat of the turned Brody inside Congress. They can easily bring in another short-term problem in season two, as Brody continues to be a broad threat. It's pretty fantastic story telling.
Overall, ideas about the season and the series aside, "Representative Brody" also did what Homeland continues to do on a weekly basis: deliver brilliant scene after brilliant scene.
It's so fun watching Damian Lewis as the conflicted Brody. As he attempted to convince Jessica that he wanted to run for office, you could tell that the man didn't really want to. He wants to, in order to go along with the plan, but he wouldn't normally want to pursue this. It was very interesting.
The dude has just become a strategist, as we witnessed when he went straight to Mike in order to help get Jessica on board. It was smart, and what made the scene even better is that you could tell he didn't believe what he was saying when he told Mike that what he and Jessica did was okay.*
*Unlike in a similar situation on The Walking Dead, where I absolutely believed Rick Grimes from the word go.
Meanwhile, Carrie continued her run of impressive feats, this time by calling a perfect audible on Al Zahari. After the diplomat declared that he didn't care if everyone knew he was gay, Carrie pulled the love for his daughter out of left field to hold over him. It's exhilarating watching her do her job.
There are only two episodes remaining in the first season of Homeland. Are they going to stop Tom Walker? Is Carrie going to get out of the hospital in time to help? What about the mole? Who is it? And will we find out before the finale?
Dan Forcella is a TV Fanatic Staff Writer. Follow him on Twitter.