Now that many of our favorite shows are either on hiatus or have just finished up a season, TV Fanatic is handing out grades to various shows the way Santa hands out presents to good kids: in bunches.
On the heels of Matt Richenthal's report on The Good Wife's first half of season three, Dan Forcella now steps up to the plate in handing out what might be the easiest grade of the year. It's time for a TV Fanatic Report Card on the first season of Homeland...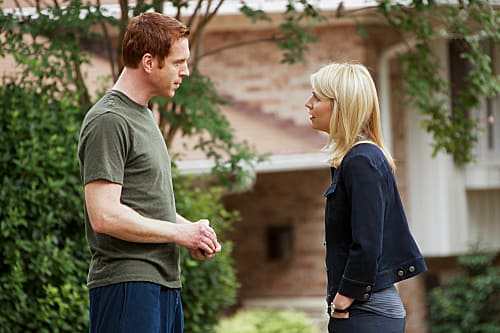 Quick Out of the Gate: Critics and fans alike noted early and often that the Homeland pilot was the most promising of the fall. The compelling story of a prisoner of war returning home, and the CIA agent tasked with finding proof that he had been turned by terrorists, made that evident from the start. The Showtime drama became appointment viewing from the word go.
Best Episode: "The Weekend" was not only the best episode of Homeland's first season; it may have been the best hour of television that aired in 2011. At the midpoint of the season, this was when Carrie Mathison and Nick Brody maybe got a bit too comfortable with each over a weekend at a cabin. It was incredible watching their chemistry together just before Carrie spilled the beans about spying on Brody and thinking he had been turned. Brody's anger in the aftermath - which we now know was because Carrie was correct in her assumption - was equally exciting and scary.
Stick the Landing: A show like Homeland, in which the twists and turns of the plot were every bit as integral a piece of the series as the superior character development was, could have easily been made or broken by the ending. Fortunately for those involved with the Showtime hit, and Homeland fans, "Marine One" was a great season finale.  Between the heart wrenching moments when Brody was deciding whether or not to set off the bomb, the emotional plea by Dana to get him to come home, and Carrie seemingly blowing up her mind in order to be normal, this was a finale that didn't disappoint.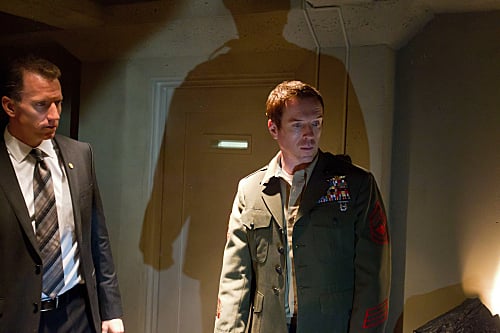 Dynamic Duo: Both Claire Danes and Damian Lewis were recently honored with Golden Globe nominations for their acting performances on this season of Homeland, and I would not be surprised if they added Emmy nominations to their respective resumes come spring time. In each and every episode in this first season, Danes and Lewis were putting forth award-winning performances, and it certainly came across that way on the screen. Danes' portrayal of the bi-polar but brilliant Carrie Mathison was nearly flawless, while Lewis was a perfect 1A to Danes as his Nick Brody struggled with life decisions after returning to America as a turned POW.
Annoying in a Good Way: Even though I just finished praising everything about the show, it doesn't mean that there weren't a few characters that got on my nerves from time to time. There were moments when I was peeved at Saul Berenson or Jessica Brody, but that isn't necessarily a negative thing. Whether it was simply getting angry with Saul for not listening to Carrie, or hating Jessica for being with Mike the best friend, it was all for the greater good. If you watch a show in which you like every character all the time, it wouldn't be very entertaining. These conflicts allowed our emotions to run wild and made for a very interesting first season.
Worst Episode: I graded no episode below a four out of five on our TV Fanatic scale, but if there was one that wasn't quite up to par with the rest, I would have to single out "Blind Spot." The first four episodes were so good, and with "The Good Soldier" and "The Weekend" hot on its tail, this hour was just a bit of a letdown.
Hopes for 2012: I can't wait for Homeland to start up again, and will be waiting intensely to figure out where the story goes from here. Brody's inevitable rise to political power should be a great source of entertainment and conflict in season two, but what of Carrie Mathison? Will her experimental treatment cure her?  And will they allow her back in the CIA.  I seriously question whether Homeland could work as a series if Carrie isn't a legitimate federal employee. On the other hand, after what this team put on the screen for 12 straight episodes in 2011, I have infinite amounts of faith that the writing team will leave me happy with season two.
Overall Grade: A
Dan Forcella is a TV Fanatic Staff Writer. Follow him on Twitter.