2 Broke Girls Review: The Horrible, Horrible Critics
Jim Garner at .
2 Broke Girls was recently blasted by some critics for its use of low brow humor. For me, it is simple: if it's a sitcom and if it makes me laugh, it has done its job. Even if those laughs are sometimes accompanied by a groan or eye roll. 
Of course, I would like to ask those critics how they think you could do prostitution humor without it being low brow. Okay, maybe a British show could pull it off. But best I can tell, if you're dealing with an American show (or Mel Brooks) any time you bring sex into comedy it's almost always immediately considered over a line.
But that's fine with me. While the critics may have slammed Michael Patrick King for the style of the show, many of us enjoy it very much. And this week was no exception. 
We  were treated to "And the Upstairs Neighbor," where the girls had to deal with their new neighbor (played by the always funny Jennifer Coolidge) who the gals presumed to be a hooker or Madame upon their initial meeting.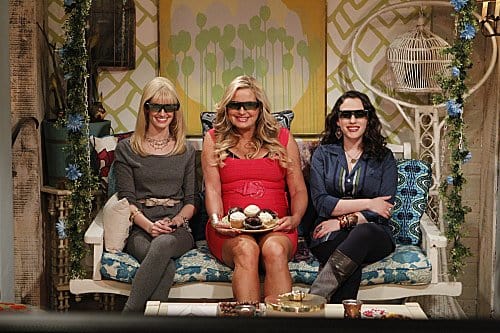 I've seen Coolidge in everything from American Pie to Joey and I did not expect the accent she was rocking as Sophie when the girls opened the door and she stood there scolding them for their horrible, horrible note.
Aside from the herpes joke with Caroline going on too long, all of the quips were right on the mark. Some hit the bullseye, such as Beth Behrs shoveling down caviar in a bit of great physical comedy.  
Overall, it wasn't the funniest episode we have had - browse through our updated 2 Broke Girls quotes section now! - but it was a moderately decent outing. I hope that Coolidge gets to make a return visit, because it would be a horrible, horrible injustice if she didn't. Yep, I'm going to milk that joke until it's just a horrible, horrible memory, I can tell already. 
Girl's Current Total: $665.00.
Jim G. is a TV Fanatic Staff Writer. Follow him on Twitter.