Competing with last year's magnificent second season - which I named the best show of 2011 - isn't going to be an easy task, but "The Gunfighter" gave Justified a great start to season three, delivering an abundance of potential for interesting stories down the road.
As great as Margo Martindale was as Mags Bennett last year, and as fun as Walton Goggins is to watch as the sometimes-a-friend/sometimes-a-foe Boyd Crowder, Timothy Olyphant is the glue that holds this cowboy masterpiece together.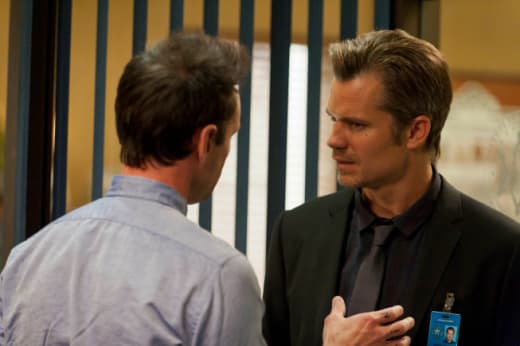 Although the season premiere essentially picked up three weeks after the traumatic events of "Bloody Harlan," Raylan had yet to recover from his gunshot wound, which created a couple of new situations for the U.S. Marshal.
Sure, he was still as sarcastically charming as ever in comparing Winona decorating his place to putting lipstick on a platypus, or contemplating the idea of naming his future child Jiffy Pop or Palmolive, but Raylan couldn't run, he couldn't shoot and he was sidelined on some events he normally wouldn't be.
Thankfully, Deputy Tim Gutterson dragged Raylan out from behind his desk to Winn Duffy's trailer, which caused a spiral of events that led to him sitting at his own table with a gun pointed in his face.
The setup to that meeting between Raylan and Fletcher "The Ice Pick" Nicks was perfect. In the same vein of the pilot, when Raylan's shootout with Boyd felt was almost identical to Raylan taking out Tommy Bucks, the showdown between Raylan and Fletcher was foreshadowed nicely by The Ice Pick's earlier gunfight with the Richard Lineback character.
Knowing how skilled Fletcher was with that ice pick and his gun, and knowing that Raylan would be slowed by his injury, made their showdown even more intense. You had to be questioning how our man was going to get out of it. Would he just be quicker than Fletcher? Did Winona have a secret gun on her?
The man isn't the master of the gunfight for nothing. Hampered by an injury, facing a skilled opponent, Raylan Givens did what he had to do to survive. Watching him pull that tablecloth at the count of two to bring the gun closer to him was a thing of beauty. Him apologizing to Winona immediately afterward, well, that was just hilarious.
The good guys won again, but over the course of the first two seasons, charismatic and ruthless bad guys have been a staple of Justified. Fletcher "The Ice Pick" was really only the second of those two characteristics, but he was so to the 10th degree.
Watching him do his thing to Lineback's man with the watches was fantastic. As he made the pizza guy not only watch but countdown from 10, I almost busted with excitement. It hadn't yet sunk in why they called him "The Ice Pick," so it was definitely surprising and exciting to see him pull off the stab and shoot move at the count of one.
Taking the pizza and shooting the delivery guy was just the pepperoni on the pie. Desmond Harrington, who you most likely recognized from Dexter or Gossip Girl, was a very nice guest start to start the season.
Neal McDonough (Quarles) was every bit as creepy as he always seems to be. He just gives off that vibe. Just as I assumed he was going to be an awful human being, the blonde baddie proved it by being the typical Elmore Leonard villain that turns on the others he was working with at the end. Because that's what Justified tends to do, it wasn't that surprising that he killed Dixie Mafia's Emmitt Arnett, but I definitely was surprised when he shot Yvette the assistant. That's just cold.
Like Mags before him, and Boyd when he decides to be evil, Quarles has the potential to be a very interesting villain throughout this third season. He has the charm, and he proved in that final scene that he has the guts, to do what he thinks is necessary... so, yeah, I could get used to watching him taking on Raylan in the near future.
While all of this was going on, Boyd was sent back to prison to meet up with Dewey and Dickie. He tried to sell the Bennetts' weed with Arlo and Devil, and Ava started to grow into a bit of a leader herself after Dunham from Memphis wouldn't buy the pot that began to rot. Admit it: you weren't expecting her to smash Devil with that frying pan, were you?
"The Gunfighter" was definitely a great start to the third season of Justified, but what did you all think?  Will 2012 be as good to Raylan Givens and company as 2011? What's going to happen with Boyd and Dickie in prison? What's Quarles' plan? And which baby name do you like better, Jiffy Pop or Palmolive?
Dan Forcella is a TV Fanatic Staff Writer. Follow him on Twitter.