Justified took its foot off the pedal a bit in "Cut Ties." But that's understandable. If you continue at the pace of the action-packed season premiere for too long, you're likely to drive off a cliff.
There was definitely a more methodical feel to the episode, but with the appearance of a woman from Raylan's past, some field action for Art Mullen, a quasi chess match between Raylan and Boyd and the introduction of Mykelti Williamson as the haunting Ellstin Limehouse, it was a fantastic second installment.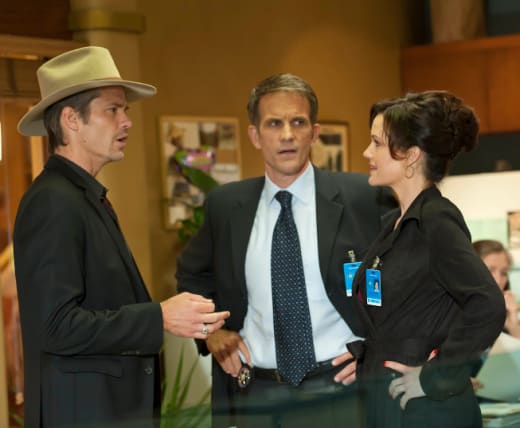 Let's start with the fabulous Carla Gugino. I've never seen Karen Sisco, but many are saying that Justified's Assistant Director Goodall could have shared that last name. She's a U.S. Marshal with ties to Miami, so it makes sense.
Goodall was a fine addition to the hour, but I didn't much see the point of bringing her in until Raylan went in for that major lip lock with Winona at the Marshal's office.
You see, he's not just older than when Goodall knew him, as the agent made a point of referencing, he's "different." Maybe that difference is his commitment to Winona. Raylan from the past might have jetted off to Miami with Goodall - an offer that would seem difficult to turn down for anyone - but current Raylan declined. He's happy where he is, and with who he's with.
If it took bringing in the beautiful and charming Karen to test Raylan's affection for Winona, and convince the audience that the two of them are a good thing, then who am I to complain?
Nobody has ever questioned what Justified does with the character of Raylan Givens. The exploration - or lack thereof - of the other Marshals, on the other hand, has been one of the more critical aspects of the series.
With as much time that is given to Raylan, and how in depth the villains' stories go, it sometimes feels like Art, Rachel,and Tim are given the shaft. Then again, there's not always enough time to flesh everything out. Would you rather have learned more about Rachel last season, or gotten every single bit out of Mags Bennett? I, like everyone else, would choose the latter 10 times out of 10.
After "Cut Ties," it might be time to take Art Mullen out of this conversation. Justified has done a much better job with Art than with either Rachel or Tim, of giving the viewer a look into who the character really is. No episode did that better than last year's "Blaze of Glory," where he limped his way to saving the day.
Here, we watched Art figure out exactly what Poe was doing. The man didn't get to where he is today by sitting behind a desk, so watching him use the GPS to figure out what had happened, and then disarming Poe in the car, was hardly surprising. It was, however, extremely entertaining.
Witnessing him threaten to kill a tied up man by saying he would just tell them it was self-defense? Even more of a reason to love Nick Searcy's performance.
While Raylan, Goodall, Art,and Rachel took care of the WitSec business, Boyd found himself in a bit of a chess match against Raylan. It was clear to us that Boyd wanted to be in prison to get to Dickie, but it took a while for Raylan to figure that out. 
Once he did, though, he cleverly pulled strings to get Boyd out of prison for only messing with a friend, instead of hitting a federal officer. Similarly, he made sure Dickie was sent to isolation in the day or so that Boyd had to remain in prison. Tricky.
Unfortunately for Raylan, Boyd Crowder is a bit of a mad genius. He pulled in a favor of his own with one of the guards, got himself beaten to a pulp by removing his shirt and showing off his swastika tats, and found himself in isolation right next to Dickie Bennett. Interesting.
This led to the return of one of the best things about Justified's second season: Dickie Bennett crying for his life. Jeremy Davies is so good at that. I don't know whether to feel for Dickie, get angry at him or laugh hysterically. It's a good mix.
Boyd wasn't going to kill Dickie in a federal prison, though. But he did want to know how he was going to get his hands on what he figured should be his: Mags's money. Upon getting released, and meeting up with his dear Ava, he announced that Limehouse had the money.
Yikes. I don't know whether to be excited or scared that there seems to be a showdown between Boyd and this recently-introduced character heading our way in the near future.
Mykelti Williamson, who I still know best as Bubba Gump, was just as creepy if not more than Neal McDonough from last week. The speech he gave to one of his employees while cutting up that pig was absolutely terrfying. This dude means business and I can't wait to see more of him.  
I said last week that a staple of Justified is its charismatic, ruthless bad guys. Between McDonough and Williamson, I think we will once again be in for such a treat.
While "Cut Ties" might have shifted down after the season premiere, it still continued the fantastic start to Justified's third season. What did you all think? Is season three living up to the second season's standards?
What did you think of Gugino and Williamson? Who is scarier, Quarles or Limehouse? Or is the answer to that question still Boyd Crowder?
Dan Forcella is a TV Fanatic Staff Writer. Follow him on Twitter.