"New Frontiers" opened the doors for adventures for all of our characters. Colette met a prince, Laura was the subject at an art gallery and Kate played with her new spy prowess.
Ted, Amanda and Maggie in a triangle?
Maggie's gaydar was going off like crazy and she decided to tell Ted about what happened with Amanda. He refused to hear what she was saying, but it was on his mind. I find it so distressing to watch people go into a commitment such as marriage with so little knowledge of what they're getting into. Even though it was the norm in the 60s, it doesn't make me feel any better.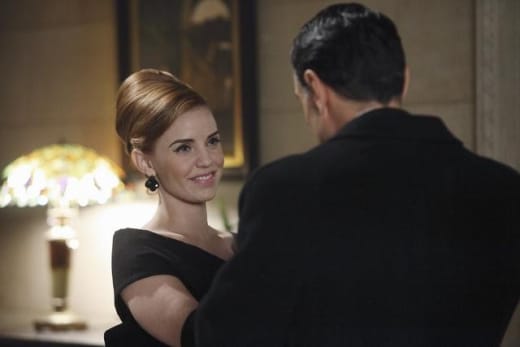 I was expecting the underground clique of homosexuals that met on the now defunct The Playboy Club to chide Amanda for marrying. She was exactly the type of person who would have graced that group: Monied and desperate to change the social mores so that she could carry on her life as she wanted, rather than as expected.
Amanda is trying desperately to convince Ted they are making the right decision, but their first attempt at making love was a disaster. I was wondering how long they could keep up the charade when Amanda told him about her feelings for women and her desire to marry so they could both live their own lives with the protection of a sham union. Ted will never agree to that.
Laura is simply gorgeous
There is nothing else to say about Margot Robbie. She's stunning. The photos of Laura in the gallery were provocative without being pornographic, but I understood her hesitation at finding them on display. The first thought that came to me was this: what if Pan Am found out? Surely the company has some sort of decency clause in their contract.
The artist who wanted to buy Laura's photos? Andy Warhol. I'm a huge fan of the cultural aspect that Warhol brought here, and I felt a tingle of joy for Laura at his interest in her. I wish all of her girlfriends could see her pictures. Maggie, especially, would be so impressed. Looking at Laura's photos, I felt the same magic I felt when looking at photos of Edie Sedgewick, a Warhol protege.
Did Bridget just disappear?
Colette is doing everything in her power to stay away from Dean, and his jealous nature is showing. I like it. It's a shame he needed to sleep with Bridget before he realized how much Colette meant to him. I thought she was assigned to their crew, but she was nowhere to be found. Perhaps she asked for reassignment when Dean turned her down.
A lost passenger boarded their flight very late, and my first thought was that if he boarded in 2012, he'd be kicked off for terrorism. Taken with Colette and she with him, he was indeed a wanted man. A prince. No wonder the poor guy wanted to be unnoticed. Choosing a less attractive date and a more secluded function might have been a good idea if he wanted to stay hidden.
Dean was so certain he was the smuggler. But he was wrong again.
Kate is learning new spy skills
Looking absolutely gorgeous while trying out her pickpocketing skills on unwitting friends and strangers, nobody was safe from Kate's charms. The outfit she wore to the Pan Am function, her hair and her makeup were all perfect. I would willingly allow her to steal my wallet to get closer to her.
Kate really does have the gift for spying. With her charm and her teacher, she was able to pick the same fellows pockets three times, finally achieving success. Thankfully, this wasn't expected of her in the Soviet Union episode. I've heard Italian men are womanizers, and it worked in her favor.
The last scene of Pan Am recreated the reaction of Americans as they found out John F. Kennedy was shot. The momentum of the program has really picked up, and the inclusion of current events takes you back to the era. Perhaps my own appreciation of Pan Am can help sway ABC into keeping it on the schedule.
Carissa Pavlica is the managing editor and a staff writer and critic for TV Fanatic. She's a member of the Critic's Choice Association, enjoys mentoring writers, cats, and passionately discussing the nuances of television and film. Follow her on Twitter and email her here at TV Fanatic.