Raza Jaffrey Speaks on Smash, Katharine McPhee, NBC Publicity Push
Matt Richenthal at .
In almost every ad for Smash, NBC "introduces" viewers to Katharine McPhee. But what about the man fortunate enough to be holding the hand of this actress on the new musical-based drama?
We're excited to introduce you here to Raza Jaffrey, who portrays Dev Sundaram on Smash, the serious boyfriend of McPhee's Karen Cartwright.
"They're in a caring, charming relationship," Jaffrey told me of Dev and Karen. "He's behind her all the way."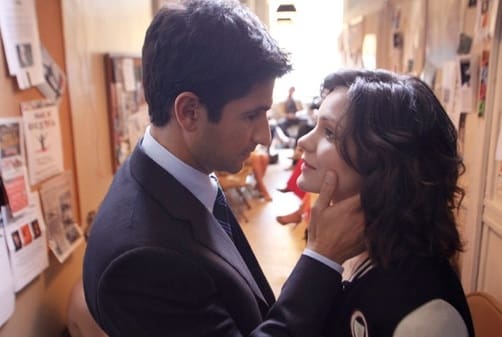 But will things remain that stable? Not exactly, the actor teases, but the relationship troubles that befall Dev and Karen might not be your typical television fare. Don't expect any cheating or even any jealousy.
"Bigger things are in store, but not obvious stuff that viewers might expect," Jaffrey said. "Issues will come up that involve both Karen's career and mine."
Dev works in the Mayor's office when we meet him on the premiere, but he hinted that his character's future might not be in New York.
After gushing over his co-star - at various times, Jaffrey referred to McPhee as "extraordinary," a "pleasure" and a "naturally charming actress" - the actor acknowledged the major publicity push NBC is giving Smash, but said it doesn't add any pressure to his performance.
"It's just the most exciting thing," he says. "You really feel supported by the network, looked after. You only need to walk across the street [in Times Square] or turn on the TV to see how much NBC is behind it. It's impossible not to be aware of."


Matt Richenthal is the Editor in Chief of TV Fanatic. Follow him on Twitter and on Google+.