In the words of fangirls everywhere: OMG! To be honest, I was a little frustrated for the majority of tonight's The Lying Game, "Black and White and Green All Over." But that ending just blew my mind!
While it was satisfying to finally have Ted and Justin confront each other, I still felt like there was so much we weren't getting. Mainly, what call could have made Ted leave the surgery? What was so important that he risked a patient's life? Then, as the rest of the episode unfolded, I started to piece together what that phone call could've been about.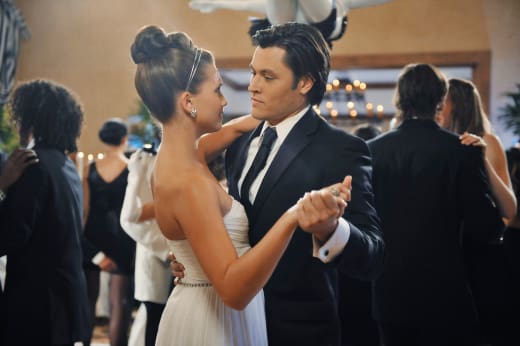 The extra clue about the phone call came unexpectedly from Kristen. She mentioned that it was a frustrating time and they were trying to get pregnant. Ah-ha! Sutton and Laurel are less than a year apart, so it is more than possible that Annie could have been in labor. Or maybe it was even a year before and Ted was first finding out about the pregnancy.
I'm pretty sure we all agree at this point that Ted is probably the twins' biological father, right? If it's not him, it's Alec, but I'm leaning way more towards Ted. I feel like I need to rewatch the first half of season one in order to piece this all together, but tonight opened a lot more doors.
Emma, Sutton and Annie Hobbs in the same room at the same time having a conversation was amazing. It's the moment so many of us have been waiting for. Then, Annie dropped the bomb that she is NOT in fact their biological mother and that she stole Emma. So what's her connection to Ted and Alec, particularly Alec? She pretty much shuddered at the mention of his name.
Obviously Alec and Ted were protecting the birth mother. Ted apparently had history with someone named Annie, Rebecca Sewell was originally named Annie and she mentioned having a past with Ted. Plus, there is more than a slight resemblance between Alexandra Chando and Charisma Carpenter. 
Lastly, we have the confrontation between the Annies at the end. Obviously they know each other and obviously Rebecca/Annie does not like Annie Hobbs. Everything is starting to finally piece together!
Of course, as Chando mentioned in our interview, we will get answers, but new questions will arise from there. If my aforementioned theory is true, it would explain many things, including why all the parents stopped being friends. After all, Rebecca/Annie is Char's aunt, so I'd imagine Phyllis's issues could stem a lot from this incident. 
One thing I still really want to know is who wants Sutton dead and why? Also, would you forgive Justin if you were Laurel? Such a crazy episode and I was almost going to write it off as another wild goose chase resulting in no answers. 
What are your theories? Hit the comments! One thing is for sure, I cannot wait until next week and until we find out who "the snake" is!