2 Broke Girls Review: Chunky Chinese Cherubs
Jim Garner at .
Nothing could dampen Han's Valentine's Day spirit. Not the lack of customers, not Max's snarkiness, not even the matching panties to his Cupid wings riding up into dangerous territory.
In fact, for an episode where nobody ended up with a date on Valentine's Day, "And the Broken Hearts" offered a good amount of heartwarming emotions. Of course, that was tempered with the base line crude humor that is the show's bread and butter.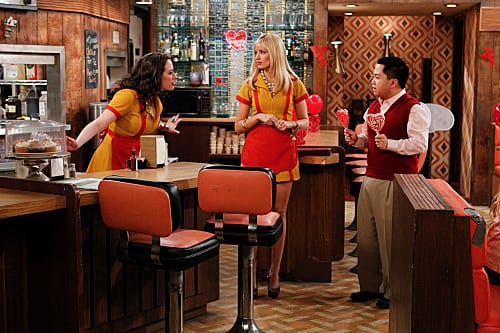 Not that crude humor is bad. Like many sitcoms before it, 2 Broke Girls does a great job of skating along on the curb - just staying out of the gutter - and just when you think we're heading south into the muck, they pull a rope-a-dope and hit us with a touching moment. 
After all, how moving was it that Caroline's father was able to send her flowers even from jail? How cute was Oleg offering Sofi the box of chocolates? And, of course, my heart strings were being tugged at gently when Max read the card from Caroline's father... right up to the point she reminded us what show we're watching with the comment about sleeping with Caroline's dad. 
However, this week's MQA (Most Quotable Award) goes to Earl. He had the best lines of the night, starting with his banter with Sofi and ending with his comment about Han being a chunky Chinese cherub.
While the girls didn't make any progress on their cupcake business, it is always nice to take a holiday off from being driven. I hope all of you have a wonderful Valentine's Day – now go get your hearts on!
Girl's Current Total: $865
Jim G. is a TV Fanatic Staff Writer. Follow him on Twitter.