2 Broke Girls Review: Bang for the Buck
Jim Garner at .
Like Valentine's slutty cousins, coming to visit lonely souls only a few weeks after the holiday of romance, Lust and Passion found their way front and center on 2 Broke Girls here, as Sophie hooked up with Oleg and Caroline did the Walk of Shame after a night of getting her "web mastered."
And just like the awkwardness that is created when an attractive cousin shows up to the family Thanksgiving dinner wearing a "you should see me naked" T-Shirt, Lust and her friend Passion had friend selling out friend in one of the best games of "finger pointing" I've seen to date. Starting with Caroline accusing Oleg of blabbing all the way through, to Earl letting it slip that Max was throwing a party, the facial expressions and looks of betrayal were priceless.
Let us not forget the road trip that Caroline and Max took to see Caroline's father. Lust was clearly putting in overtime. First, with Max finding them a ride on the "Bang Bus," then when Max made an offer to the guard that any straight man would find difficult to turn down.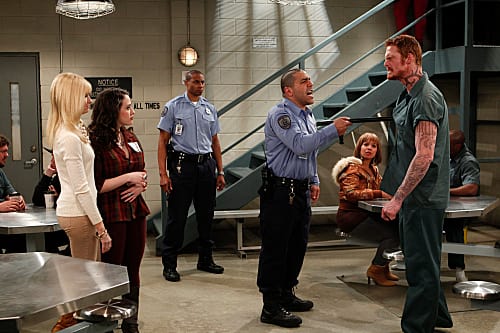 Ah! But, not to be outdone, Passion decided that Max should continue her streak when Max bumped into an Irish man who was so taken with her on a one-night stand that he blew up a Chipotle and had her likeness tattooed on his chest.  Wait, did we finally cross a different type of inappropriate line while ridding the "Bang Bus?" Well, that's a buzz kill. 
Honestly, had it not been for the change in tempo from the prison riot started by the Red-headed Irish bomber, I'm not sure if "And The One Night Stand" would have found an enjoyable ending giving how much influence Lust and Passion was having on emotions to that point. And while it was a funny episode featuring some great quotes, I would really like to see the girls start to make some sort of profit with the cupcake business; their current total is pathetic!
Girl's Current Total: $625.00.
Jim G. is a TV Fanatic Staff Writer. Follow him on Twitter.