After Karen told Richard it was not okay to bring in the clowns Hank was summoned away to help write a "Love Song" with Kali. Kali told him she wanted the song to be "More Than Words." While she informed him of the story of how she left New York to come to Los Angeles, Hank flashed back to he and Karen's first days in L.A. when they were debating whether or not to move out West themselves.
The three-year gap between last season and the current one had me anxious for some flashbacks to what we missed during that span, but what we got this week was far better. I had always assumed that Hank was unfaithful to Karen throughout their relationship, but as we saw when he snubbed the advances of Allie Andrews, he was not always so willing to say "Let's Get It On." So what happened?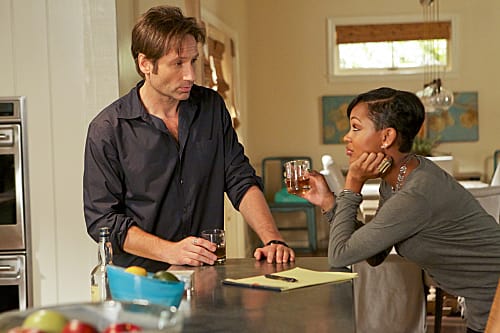 According to Hank, neither cities nor people can change a person; we are who we are. By that line of reasoning, it was only a matter of time before Hank strayed from Karen, regardless of whether or not they decided to move to L.A.  
Despite the allure of woman such as Kali - who sizzled this week and showed some nice depth of character - as the episode came to a close with Karen and Hank embracing, it was never more clear that they will always be each other's first, last and everything. Hank may not have a chance to rekindle their endless love, though, as it seemed more and more likely that Samurai will eventually catch Hank and Kali playing their "Wicked Game."
It was great to see the old gang though in their early days, wasn't it?
Hank - with stars in his eyes and Charlie with dollar signs in his - were ready to take on Hollywood. I loved Marcy's reasons for loving L.A. as they very much mirrored my own, but in a town where everyone is trying to be someone else, it is no wonder Hank has lost sight of who it is he wants to be.
Regardless, he and the rest of the cast were "Wonderful Tonight" and set the stage for some exciting episodes to come.