When we last saw Cougar Town nine months ago (thanks for that, ABC) Jules and Grayson were left looking out at the ocean and agreeing to go wherever life may take them... together. And while the "Ain't Love Strange" title card may still not be happy about the sitcom's horrible title, everything we love about the show returned tonight, better than ever.
We have the jokes about wine, now with neck lanyards that hold a backup glass of wine; Bobby and Andy are still the most loving couple on the show; Tom is still creepy and in the background; and, saving the best for last, Penny Can!
We even have the slightly longer morning routine song!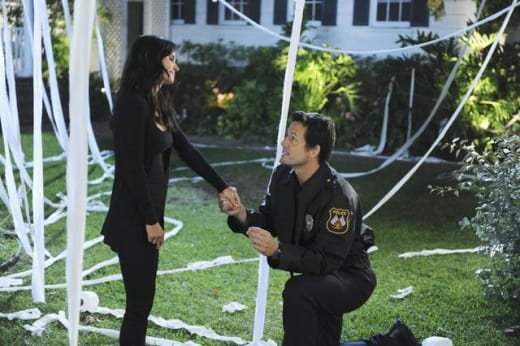 I could go on and on. But even after such a long time off the air, and mostly with just guerilla marketing to remind us of its existence, it feels like just yesterday we left Cougar Town.
Yet even with everything that has stayed the same, the cul-de-sac crew pushes forward with characters that are ever evolving. While Jules is still lovably neurotic and predictable, she's not the person we started with. Jules is much more open to showing vulnerability and sharing her (realistic) dreams while still dreaming crazily big.
Ellie and Andy are now beginning the next chapter in their lives with a now slightly older Stan – who may end up being Ellie's greatest enemy and challenge. It's both hilarious and karmic that stone cold Ellie's greatest fears about Stan, that he may be more like Laurie than her, could be the one thing that brings her normally stoic personality crumbling all around her.
Travis is rightly focusing on school after his rescue in Hawaii, and - while Bobby's susceptible brain is ready and prepared to love and accept Travis if he ever comes out - Travis still feels a little heartbroken and ashamed over what happened with Kirsten. Something else that has changed with Travis is his potential to be better integrated with the rest of the adults. His green screen provides plenty of opportunity for the crew to play up their wacky, made up scenarios.
Laurie is still Laurie, but now with an ankle monitor. Hey, why mess with perfection, right?
Still, even with all of that, Cougar Town continually shows us why it's one the best comedies on television, filled with humor and heart that has no equal. The way the proposal was so seamlessly blended in with all of the laughter was absolutely touching. There are very few shows that can get away with such a long joke about toilet paper, "sharking" a car, Tasers, three strikes - and still end with a proposal. But that's just the way this program operates, and I wouldn't have it any other way.
Other thoughts:
In case you're wondering, the song played during the proposal was "Fall" by Ed Sheeran. I may have it on repeat as I'm writing this.
This should be the gang.
The cast and crew really have this show down to a science, all of the plot points and jokes flow seamlessly from one another. I hope because they have such a firm hold on that foundation they'll move outside some of their comfort zones and explore new themes and jokes.
What did everyone else think of Cougar Town's long awaited premiere? Was it worth the wait? Be sure to let us know in the comments and then head on over to the quotes page and vote on some of your favorites from the episode!