What do cave men, Dominance Ball, big feet and helmets have in common? Heart. "Lover's Touch" had a whole lot of heart.
Oh, and we learned that creepy Tom is a neurosurgeon and has a last name. Not that I actually remember what it was. Which is a shame, really, because I was hoping he would be a creepy doll collector with cages.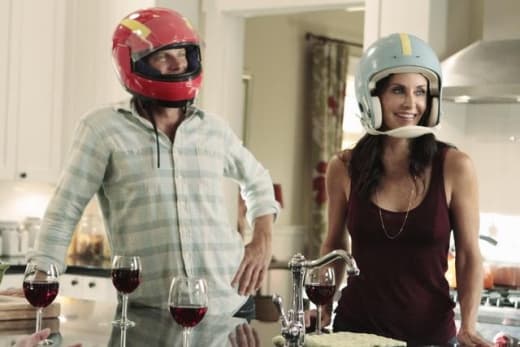 The jokes were flying fast tonight, and it was hard at times to see where they were all leading to. In addition, many of the quips felt like they could go on for more than one scene. Especially Ellie missing being a ho. I would absolutely love watching Ellie and Laurie just be hos for a week.
Getting back to the hospital and Travis, it finally feels like he's been well integrated with the rest of the cast. For so long he's been the token kid who makes fun of their drinking and their age, but now, with that first big life screw-up behind him, he feels like an adult. He feels like one of them if he were of drinking age. Yet, even with all of that, I really bonded to Travis and his relationship with Jules because my parents often tell me the same things... and they too are well-versed in the art of wine drinking with friends - but I digress, and they're going to kill me.
Anyway, it doesn't matter how old we are, they're going to keep worrying about us, and it's those little moments that make Cougar Town great. No matter how wacky the stunts get, no matter how humiliating a helmet can be, all of these moments are held together by heart.
Now Bobby just needs to figure out a way to combine Penny Can with Dominance Ball.
Other thoughts:
Travis is almost 20, which means he's almost 21. That means he's on the path of truly becoming one of them!
The pairing of Grayson and Andy was odd at times, but it worked. Poor Andy is usually forever the butt of some kind of joke, and to let him get the upper hand for at least a few jokes at Grayson's expense was a great change of pace.
Big Carl!
As much as I like Tom, I don't know how I feel about his continued integration into the group. I kind of like the gang as it is.
Was that Slagathor in the hospital?
What did you think of Cougar Town tonight? Was Jules too over the top? Just right? Drop us a comment and then head on over to our quotes page and vote on some of your favorites!