Cougar Town Review: Zip Lines and Murder Portraits
Nick McHatton at .
Cougar Town is now two-for-two on season three.
None of the gags on "A Mind with a Heart of its Own" would have seemed particularly funny on paper, and yet every single one worked here on many different levels. Seriously, metaphorical zip lines, dead horses, murder portraits and a "thanks babe" might not come across as humorous (or logical) yet the sitcom delivered in spades. Even the title card comes through every time now.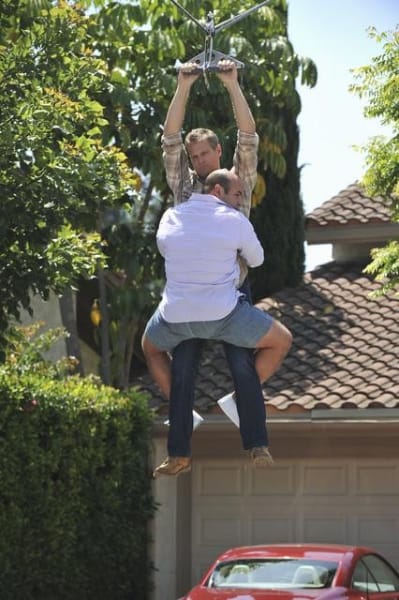 Why? Like I said last week, this show is a downright science at this point. The writers just know the characters so well.
Because we're invested, we know we like crazy what-what's from Laurie; we know Andy and Bobby still love each other; and Jules and Ellie, no matter how different and far apart they seem, they still love and get each other, too. Ellie wouldn't step out for a hug or be the murder recipient if she didn't.
Even Scrubs alum Ken Jenkins came back for an episode, reprising his role as Jules' dad, Chick. As always, there's always a little bit of sentiment (the kind you can't buy at a grocery store in Mexico). Chick felt he neglected his fatherly duties with Bobby, and let him break his little girl's heart. So he was going to do his damnedest to make sure he broke Grayson before he ever had a chance to do the same. But not before he and Travis screwed with him a little.
They had me going a little bit, too. I thought for sure that horse was going to at least get shot. I guess fake dead horse as a prop is more expensive than putting your cast in fake blood underneath chainsaws and baseball bats, though.
All in all, I'm sold on Cougar Town's rhythm, its comedy and its characters. With each passing week I'm more and more open to whatever crazy things they cook up, and most of all, it's always funny and heartwarming.
Other thoughts:
Sunshine State, The Drinking Age, Cougar City, Mid-Life were just some of the names being considered for a title change. Is there a favorite among those? I'm conducting an informal poll. Personally, I like The Drinking Age or Mid-Life. 
A Tuesday wedding? Clearly, everyone but ABC knew which of their comedies were going to live and die this season.
I'm just flush from the grease fire.
The show's ratings aren't at acceptable levels yet, and while I'm not surprised, I'm not very happy about that either. I hope you're watching and telling friends the show is back!
Be sure to vote on some of your favorite Cougar Town quotes from the episode!