This was the first time in season three's early run that I wasn't jumping up and down with excitement during and after an episode of Justified.  That's not to say that "When the Guns Come Out" wasn't still great, because it was.
It was filled with a shotgun shootout, a fight on a moving trailer, and plenty of great moments that began to move a number of the pieces around on this gigantic hillbilly chess board, so it was definitely a satisfying hour.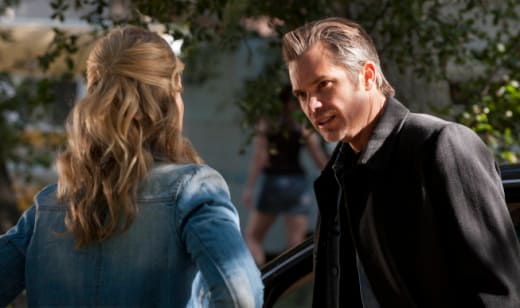 As is usually the case with Justified, let's start by talking about these great villains.  Both Quarles and Limehouse had their own moment to chew up the screen while exemplifying what their respective character is all about.  Oh, and it goes without saying at this point, but McDonough and Williamson were once again wonderful.
Quarles is a man who enjoys being the bad guy.  It's fun for him, so when Winn told him that Raylan busted up their oxy clinic, he just laughed, took a puff on his cigar, and said that it was "awesome."  The guy enjoys this part of it.  Quarles set out to learn more about the Marshal who was onto him, so finding out that he and Boyd work together, and that Raylan's dad is part of Boyd's crew, was just another step in the right direction for this carpetbagger's fun game of life.
Limehouse, on the other hand, is a man that just wants to survive.  He's not only looking out for himself, but also those that he cares about.  When he found out that his number two was stirring the pot in Harlan, trying to pit bad guys against bad guys, we were all treated to another intimidating speech by the BBQ Butcher.  As he said, the way Limehouse rolls has worked for the past 15 decades, so why try to change anything now.  Being completely on top, all by yourself, isn't worth the collateral damage.  He isn't willing to sacrifice any of the people of his holler, just to run the county.
Inevitably Quarles and Limehouse will come to blows, with Boyd and Raylan likely in the middle of all of it as well.  When it happens, hopefully none of them are as dumb as Delroy, who thought he was all tough bringing a knife to a gun fight.
How great was that quip by Raylan when Delroy did break out that knife though?  "Shit! I didn't bring a knife," as he motioned to his holster.  That's just classic Raylan right there.
Do you know what else is a classic Raylan Givens move?  Not being able to change.  That is exactly why Winona finally left him for the second time.  She didn't run off to Costa Rica with the money from the evidence locker - she left that to Charlie in Mexico - but she sure didn't want to sit alone in an empty house anymore.  Raylan's never going to be the family man that he would need to be for Winona to stick it out.
He's never going to quit being the lawman who gets shot every other month, so it's the right call for them to split up.  It's just a shame, because they are extremely fun to watch together.  When they're happy, Raylan and Winona's back-and-forth is some of the best on tv.
"When the Guns Come Out" wasn't the most thrilling hour of Justified's third season, but it was integral to the story telling.  What did you all think of the episode?  Which villain do you enjoy more, Quarles or Limehouse?  And what on earth is Charlie going to do in Mexico with all that money?  Sound off in the comments!
Dan Forcella is a TV Fanatic Staff Writer. Follow him on Twitter.