"The Man Behind The Curtain" marked the midway point of Justified's third season, and what a first half it has been.
This week's installment might not have matched the bar set by some of the episodes that came before it, but it succeeded in moving many pieces around before we head down the back stretch of the season.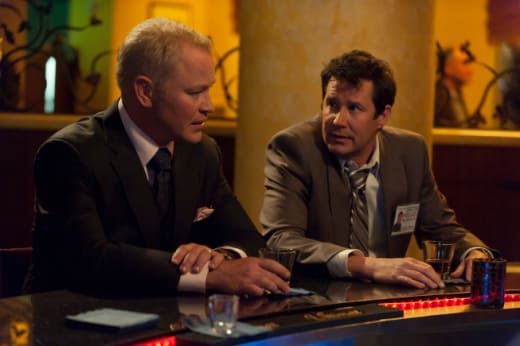 There may not have been an exciting episodic story, but the eponymous Robert Quarles made up for that with sheer intrigue. We learned so much new information about him, both in actual history, as well as in what he is like after watching put his hand in all of those different honey jars.
Quarles is investigating Raylan, he is trying to figure out Boyd's deal, he's bribing the sheriff, he's handling his pseudo brother Sammy, and by the end of the hour, he is paying a visit to Gary Hawkins in Tulsa.
The point is that Quarles is driven, but he may be spreading himself a bit too thin. He has too many ideas, and too many things going on, that one of them is bound to blow up in his face.
Maybe that's what he wants. If his reaction to Raylan shutting down his operation is any hint, Robert Quarles might want an epic battle like we've never seen. When he realized that Raylan was basically evicting him from the house he had his entire operation working out of, Quarles didn't seem mad, or angry, or even upset. He seemed disappointed.
This is how you're gonna do it? As if he wanted it to come to blows, or he wanted a shoot out in the desert. With the way he has been treated by Big Boss Tonin, Quarles may just want some attention. Going out in a blaze of glory might be right up his alley. He seems to be on his way.
We also found out some actual background information on Quarles. He was taken in by the head of the Detroit mob, and basically groomed to be his successor. Now, though, the don's real son is the one with all the money and the power, and Quarles is relegated to Kentucky. He's bitter, and it will probably end up getting the best of him.
Watching Quarles make all of his moves was exciting, but it wasn't as fun as seeing Raylan take out Boyd and Johnny with one hand tied behind his back, or slapping Sammy Tonin upside the head for hiding behind his daddy's title. Well, maybe his hand was tied up, but it did seem extremely simple for him. He's a stud.
Quarles' move on the sheriff, and the sheriff's subsequent move on Boyd's bar, forced Mr. Crowder's hand. Boyd called up Jim Beaver's Shelby, and asked him to think about running for sheriff. That could get interesting.
So there were a lot of moving pieces during "The Man Behind the Curtain," and there was certainly a healthy amount of new information on Robert Quarles, but was this one of your favorite episodes of the season? It wasn't mine, but maybe I'm just as crazy as Arlo Givens when he's off of his meds.
Dan Forcella is a TV Fanatic Staff Writer. Follow him on Twitter.